About:
The Mes­senger by Daniel Silva is the sixth novel in the Gabriel Allon series. Allon is an Israeli agent who is more inter­ested in restor­ing works of art than the world of espionage.
352 pages
Pub­lisher: G. P. Putnam's Sons (July 25, 2006)
Lan­guage: English

ISBN-10

: 0399153357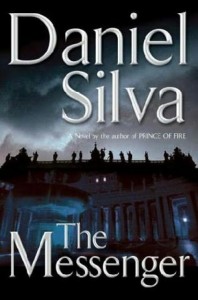 My rat­ing for The Mes­sen­ger — 4
Buy this book in paper or elec­tronic format
Thoughts:
The Mes­sen­ger by Daniel Silva (web­site) is more of a thriller than the pre­vi­ous five books. The book is quite vio­lent and Allon's ruth­less­ness comes out in sev­eral highly charged scenes.
While I didn't think The Mes­sen­ger was the best in the series, it did fill in some miss­ing gaps in the rela­tion­ships between the char­ac­ters. As in many book series this one also is a stand­alone, but it's always nice to read them in order.
I was glad to read about the return of Chiara, Allon's love inter­est which we lost in the pre­vi­ous book. I also loved the way Silva wrote the Pope ("the" Pope, not some mob­ster or ter­ror­ist with a nick­name), he was approach­able and seemed like a good leader.
Silva incor­po­rated cur­rent events into this book (and sev­eral oth­ers), such as the ten­sions between Chris­tian­ity and Islam and the con­cerns of the Pope who is try­ing to build rela­tion­ships, yet stands to lose his life because of them.
As much as I love cur­rent events in books, what I dis­like is cur­rent events like plot devices which never actu­ally hap­pened. Mix­ing up cur­rent events with the destruc­tion of St. Peter's basil­ica sim­ply didn't ring true for me.
Over the past two years, I have been intro­duced to Daniel Silva and have read most of his books. If you fol­low my blog you know that I am a fan and think that Silva is one of the best espi­onage authors work­ing today. How­ever, in this book his writ­ing seemed to lack a lit­tle – not much mind you, but I could tell the dif­fer­ence from pre­vi­ous books.
That being said, this book is cer­tainly is still highly rec­om­mended. Once Allon enters the page, the strengths of Silva in plot­ting and writ­ing come to full power and fruition. The story becomes a grip­ping page turner and I could not put it down.
Related Reads:
The Kill Artist by Daniel Silva (Gabriel Allon #1)
The Eng­lish Assas­sin by Daniel Silva (Gabriel Allon #2)
The Con­fes­sor by Daniel Silva (Gabriel Allon #3)
A Death in Vienna by Daniel Silva (Gabriel Allon #4)
Prince of Fire by Daniel Silva (Gabriel Allon #5)
So tell me, who do you think is the best espionage/thriller author out there?
Syn­op­sis:
When an al Qaeda oper­a­tive is killed inLon­don, some pho­tographs are found on his com­puter and the Israeli intel­li­gence sus­pects that the group is plan­ning a big attack aimed directly at theVatican.
Israeli agent Gabriel Allon finds him­self in a bat­tle of wits against dan­ger­ous men which takes him on a hunt acrossEurope.
Buy this book in paper or elec­tronic format
Zohar — Man of la Book
Dis­claimer: I bought this book.
BOOK BLOGGERS — Have you read The Mes­sen­ger? If so link up your review below:
Enjoy this post? Why don't you sign up for the RSS feed