About:
The Lost Solos (המקווה האחרון בסיביר) by Eshkol Nevo is an Israeli novel published in 2013. Mr. Nevo was born in Israel but lived in Detroit, MI.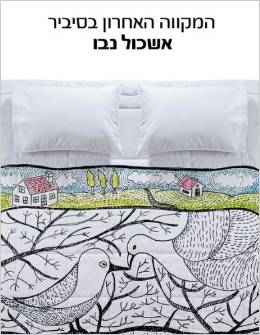 My rating for The Lost Solos – 5
Buy this book on Amazon.com
Thoughts:
The Lost Solos by Eshkol Nevo is a funny, touching novel which is well written and very absorbing. The novel is choke full of secrets and side-stories that the author could have easily written 2 or 3 other novels using the same material.
The author managed to captures several aspects of Israeli society, the Russian immigrant, a soldier, politician, religious Jew, an Arab bird-lover and more. The point of view constantly changes in the story which gives the narrative it's on dynamic and takes on a life of its own.
Mr. Nevo changes the names of the towns in the book to ones that don't exist, but he allows the reader to guess which Israeli cities he is talking about. While that is not an integral part of this wonderful book, it just adds another dimension of fun into it.
Synopsis:
Moses Ben-Tzuk, a municipal employee, Mayor Danino's "go-to" guy, tries very hard to forget his former life, before becoming an Orthodox Jew, especially when it comes to the love of his life, Ayelet. Just when Moses thinks he managed to forget his former self his boss, the mayor, gives him an assignment which might ruin his hard work.
In Ben-Tzuk's town, a group of Russian immigrants was put up in a neighborhood at the edge of town and left to their own devices, until a rich American promised the mayor a lot of money to build a mikveh in his wife's honor. The mayor, never one to turn down free money, decides to build one in the Russian neighborhood, since it's the only neighborhood without one, but the occupants think they are getting a club house to play chess.
Buy this book on Amazon.com
Zohar — Man of la Book
Dis­claimer: I got this book as a gift.
*Ama­zon links point to an affil­i­ate account
Enjoy this post? Why don't you sign up for the RSS feed