About:
The Faith­ful Spy by Alex Beren­son is a novel fol­low­ing a man who was a CIA asset in al Qaeda. The novel takes place in Afghanistan and the United States.
384 pages
Pub­lisher: Berkley/Penguin
Lan­guage: English

ISBN-10

: 0425244830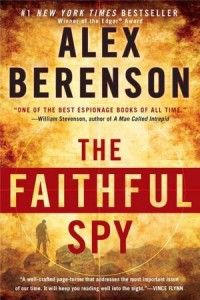 My rat­ing for The Faith­ful Spy — 4
Buy this book in paper or elec­tronic format*
Thoughts:
After fin­ish­ing to read The Faith­ful Spy by Alex Beren­son (web­site | Face­book | @AlexBerenson) I added Mr. Beren­son to my favorite authors list imme­di­ately. The novel grabbed me from the first sev­eral pages and didn't let go until the last sentence.
Mr. Beren­son is a superb sto­ry­teller and describ­ing details which lets you feel the story and immerse your­self in it with­out any super­flu­ous descrip­tions. Even though this story tells of a man deeply embed­ded with al Qaeda, I thought that it was a mod­ern Amer­i­can west­ern – the type which leg­ends are made of.
The com­par­i­son to an Amer­i­can west­ern comes with flaws of course, a lot of chest thump­ing, the jus­ti­fi­ca­tion of tor­ture (as long as it's done by the good guys) and aban­don­ing the gray areas which make up most of our lives, espe­cially those in espi­onage and the mark of a good spy novel.
It is dif­fi­cult to write a spy novel which deals with ter­ror­ism and Islamist extrem­ists, mostly because we do not have the abil­ity to under­stand the enemy and the thou­sands of years of cul­ture behind them which make them act a cer­tain way.  Unlike other spy nov­els tak­ing place in more tra­di­tional times (the Cold War for exam­ple) where our enemy was almost a mir­ror image of us – even though we jus­ti­fied it to our­selves that we were the good guys and they were, of course, sim­ply wrong.
The novel is divided into 2 parts, "The Home­com­ing King" which is absolutely bril­liant and "The Believ­ers" which is very good, but not as good as the first part. The "tick­ing bomb" sce­nario at the end is a bit stale, some­thing most action nov­els have, but it is very well writ­ten.
In Part 1 the reader gets a deeper under­stand­ing of Islamist fanat­ics, even though this is a novel it seemed to me that the author did his research and man­aged to present it in an infor­ma­tive, inter­est­ing way which will lead one to bet­ter under­stand the world's head­lines. The protagonist's return to Amer­ica, after absences of a decade liv­ing with deeply devout Mus­lims, is an amaz­ing analy­sis of a man between two worlds who is try­ing, unsuc­cess­fully, to merge them both together. He is see­ing his beloved coun­try, its deca­dence and decay, with new eyes and a fresh perspective.
Part 1 could have been a whole book all by itself. If you ever left your child­hood town, only to return a few decades later, for bet­ter or worst as a stranger, you will some­what under­stand how John Wells sees the US when he comes back. The mem­o­ries, remem­bered through a rose col­ored fil­ter, are shat­tered. The absence of shame and deco­rum are a slap in the face to a man who has fought hard for "our way of life".
I am look­ing for­ward to read more of Mr. Berenson's nov­els, he is obvi­ously capa­ble of lit­er­ary excel­lence as he proved in part 1 of this novel. Maybe he had some bad advice on the sec­ond part, maybe he was in a rush or merely just suc­cumbed to the pres­sures of com­mer­cial suc­cess. How­ever, that is all con­jec­ture on my part and cer­tainly unfair to the author who has shown great talent.
Syn­op­sis:
John Wells is the only CIA agent man­aged to infil­trate al Qaeda, in the process he has become a faith­ful Mus­lim but still an Amer­i­can patriot. Under­stand­ably, John's al Qaeda bosses don't fully trust him, but as a result of his long absence and find­ing a new reli­gion, his CIA bosses don't trust him either.
Try­ing to prove him­self as a patriot and foil the next big attack on Amer­i­can soil, John puts him­self on the line of fire, together with an al Qaeda cell while try­ing to evade the CIA who will bring him in.
Zohar — Man of la Book
Dis­claimer: I got this book for free
*Ama­zon links point to an affil­i­ate account
BOOK BLOGGERS — Have you read The Faith­ful Spy? If so link up your review below:
Enjoy this post? Why don't you sign up for the RSS feed