About: 
The Cry­ing Tree by Naseem Rakha is a fic­tional story of a young, strug­gling fam­ily. Ms. Rakha is an award win­ning author, jour­nal­ist and radio personality.
368 pages
Pub­lisher: Broad­way Books
Lan­guage: English

ISBN-10

: 0767931742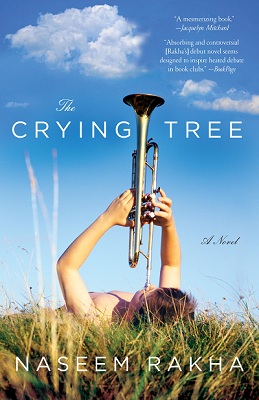 My rat­ing for The Cry­ing Tree — 3
Buy this book in paper or elec­tronic format*
Thoughts:
The Cry­ing Tree
Naseem Rakha is a deeply mov­ing, well plot­ted fic­tional book has many themes: for­give­ness, redemp­tion, belief, jus­tice and the role of orga­nized reli­gion are among some of them. The book cen­ters around Irene Stan­ley, wife to Nate — a police­man, mother to Bliss — a daugh­ter, and Shep — her mur­dered son. Shep's mur­derer, Daniel, is cap­tured and sen­tenced to death while Irene keeps liv­ing as a zom­bie — walk­ing in a daze and man­ag­ing to get through the day with alco­hol. On Shep's would be 25th birth­day she decides to write Daniel on death row and to her sur­prise — she receives a reply.
This is where the story actu­ally starts!
Even though I liked this book, and it is a well writ­ten novel, the mes­sage the author tries attempts to send (per­sonal for­give­ness and redemp­tion) seems a bit heavy handed at times and the end­ing, which to me was mostly pre­dictable. The author han­dles mul­ti­ple time­lines well and even though the chap­ters not only jump from time, but also to a dif­fer­ent place and char­ac­ters it all seems to fit and not dis­jointed at all.
The end­ing of The Cry­ing Tree
is where the story fell short, in my opin­ion. The char­ac­ters were well drawn but the final chap­ters didn't make sense at all, espe­cially in the con­text given. I don't want to spoil any­thing; the book is cer­tainly worth read­ing and is enjoy­able, despite the ending.
Buy this book in paper or elec­tronic format*
Zohar — Man of la Book
Dis­claimer: I bor­rowed this book from the local library.
*Ama­zon links point to affil­i­ate account
Enjoy this post? Why don't you sign up for the RSS feed