"Ele­men­tal power — a sim­ple grandeur of con­cep­tion — that sticks in the soul and finds its way to the cor­ner of one's smile."
Super­man at Fifty! The Per­sis­tence of a Legend!
 About:
Super­man: The High-Flying His­tory of America's Most Endur­ing Hero by Larry Tye is the story of the his­tory behind the world's most beloved and endur­ing hero. Ini­tially cre­ated as a vil­lain in 1933, later revised as a hero by Jerry Siegel and drawn to resem­ble movies star Dou­glas Fair­banks Sr. by Joe Shus­ter  (Clark Kent was molded after Harold Lloyd) .
432 pages
Pub­lisher: Ran­dom House
Lan­guage: English

ISBN-10

: 1400068665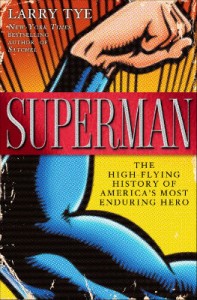 My Rat­ing for Superman:The High-Flying His­tory of America's Most Endur­ing Hero —

5
I have always liked Superman.
I still remem­ber when my mom took me, an eight year old, to the big city to see Super­man: The Motion Pic­ture star­ring Christo­pher Reeve. It was a big out­ing, not only the city… but a movie!!!!
I read every­thing I could about the movie before­hand, kept every arti­cle, stud­ied every pic­ture and learned the bios of the stars and crew. Heck, I knew what the movie was about before I even entered the the­atre.
But you know what?
For those two mag­i­cal hours I truly believed a man could fly.
And Christo­pher Reeve will always be "my" Superman.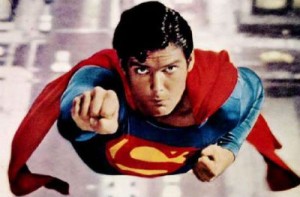 Espe­cially then Super­man has always held a mag­i­cal hold over me. I have a huge Super­man col­lec­tion which I love and my wife abhors. Lately the col­lec­tion had to suf­fer due to kids, rent, food, etc. but at least it's easy to buy me presents. My son, who at the age of three and despite a con­stant brain wash­ing from his old man, decided to fol­low Bat­man (prob­a­bly just for spite) have an ongo­ing bat­tle with me about who is the "great­est super­hero".
I'd like to think I'm win­ning but really, is there such a thing as win­ning an argu­ment with a five year old?
I got this book from the local library, when I took my kids there a few weeks ago my son spot­ted it on the "New Books" shelf, grabbed and proudly pre­sented it to me.
You know I had to check it out.
Super­man – the grand­daddy of all super­heroes, the one who started it all, the icon who is held to higher stan­dard in fic­tion and has set the stan­dards for many of us in the non-fiction world. It's no won­der why the fran­chise is almost 80 years strong and grow­ing stronger.
The research in Super­man: The High-Flying His­tory of America's Most Endur­ing Hero by Larry Tye (web­site | Face­book | @LarryTye) is excel­lent and the book itself is fas­ci­nat­ing. Mr. Tye goes through the early devel­op­men­tal stages of Super­man by Jerry Siegel and Joe Shus­ter , through the character's suc­cess and their mis­man­age­ment of their careers, the shys­ters, the busi­ness­men and the fan­boys who grew up to reclaim their hero and his "par­ents". The story con­tin­ues through the years, telling of impor­tant story arcs as well as indi­vid­u­als who shaped the mythol­ogy, writ­ers, artists, actors and publishers.
Jerry Siegel and Joe Shus­ter by Neil Adams
Along the way the author slowly reaches to the con­clu­sion that Super­man is not just an Amer­i­can hero, but a hero the chil­dren around the world and an icon to look up to. Espe­cially poignant to me was the time after the death of Super­man where, in the comics, heroes rose and ordi­nary peo­ple wore the famous emblem try­ing to live up to ideal of Super­man himself.
The book is a well researched doc­u­ment about a beloved char­ac­ter and the peo­ple who made him so. The nar­ra­tive is full of won­der­ful anec­dotes about the comics (includ­ing why many char­ac­ters have dou­ble L in their names), the famous copy­right tri­als, the movies, TV shows (includ­ing Smal­l­ville) and choke full of inter­views with a cast of char­ac­ters who deeply care about this mytho­log­i­cal titan.
Related Reads:
The Amaz­ing Adven­tures of Kava­lier & Clay by Michael Chabon
The Dark Knight Returns by Frank Miller
King­dom Come by Mark Waid and Alex Ross
Zohar — Man of la Book
Dis­claimer: I got this book from the local library
*Ama­zon links point to an affil­i­ate account
BOOK BLOGGERS — Have you read Super­man: The High-Flying His­tory of America's Most Endur­ing Hero? If so link up your review below:
Enjoy this post? Why don't you sign up for the RSS feed