I got this book for free as part of the TLC Book Tour pro­mo­tion.
The pub­lisher has made avail­able one (1) copy of "so much for that" to be given out– enter at the end of the post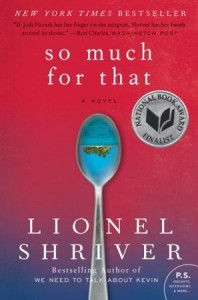 My rat­ing for so much for that — 5
About:
"so much for that" by Lionel Shriver is a fic­tional book about seri­ous mat­ters. The book deals with the frus­tra­tion and the unfair­ness of deal­ing with the US health­care indus­try.
480 pages
Pub­lisher: Harper Perennial

ISBN

: 0061458597
Pur­chase "so much for that" through the ManOfLa­Book affil­i­ate account on:
Ama­zon |Book Depos­i­tory US | Book Depos­i­tory UK
Thoughts:
"so much for that" by Lionel Shriver a tough book to read because of the sub­ject mat­ter, how­ever it is well writ­ten, inter­est­ing and hard to put down.
Shep, the pro­tag­o­nist, has been sav­ing money all his life in order to retire to a small African island named Pemba where the cost of liv­ing is minus­cule, that is until his wife got can­cer and Shep started to see his life sav­ings of more then $800,000 dwin­dle away to noth­ing.
And Shep has health insur­ance.
Shep's best friend, Jack­son who has his own sick daugh­ter and is also work­ing for health insur­ance. Jackson's world is divided between those who take (any­one who is on the gov­ern­ment pay­roll in some form) and those who give (every­one who is not on the government's pay­roll but pay taxes).
His polit­i­cal tirades were some of the inter­est­ing points in the book.
Shep's life is full with "moochers" (those who take accord­ing to Jack­son), his father, a min­is­ter, never saved enough to retire, his sis­ter is self cen­tered and expects him to bail her out by "loan­ing" her money. Shep's daugh­ter is going to col­lege, his son is in pri­vate high-school and Shep's wife got a low pay­ing job because, dur­ing a fight, he told her she is not con­tribut­ing.  The minor char­ac­ters are inter­est­ing but not very real­is­tic — how­ever they do make the point.
This book hit me very per­son­ally on sev­eral lev­els.
First, my father, who passed away in Decem­ber, has can­cer for the last two years of his life – which was a real harsh les­son on what "health cov­er­age" really mean. My dad was a small busi­ness owner who paid boat loads of money, out of pocket, into the health care sys­tem and got very lit­tle in return (he didn't get sick often).
Luck­ily he and my mom moved out of the house they lived in for almost 30 years and into a 55+ com­plex, which they paid cash – oth­er­wise they would have lost their home. His med­ica­tion cost $7,000 a month, his insur­ance paid 50%.
Can you afford a $3,500 monthly bill for one type of medication?
They basi­cally had to show income of less than $1,000 a month in order to survive.
This taught us a painful les­son – don't get sick unless you are very rich or very poor. Even with health insur­ance you are likely to go bank­rupt, lose your per­sonal for­tune and every­thing you worked to acquire your whole life.
Sec­ond, liv­ing in New Jer­sey, pos­si­bly the most cor­rupt state in the union where peo­ple who own their homes out­right are being evicted because the pre­pos­ter­ous prop­erty taxes – Jackson's dia­tribes hit a sore spot.
We pay the high­est per­sonal taxes in the nation where 50% of them goes to somebody's pocket (cor­rup­tion tax), 25% are wasted (as per the state's comp­trol­ler) and the other 25%, the money used to run the state, is still four times higher than other states.
As you can tell, I truly enjoyed this book. It is very thought pro­vok­ing and I highly rec­om­mend it to book clubs every­where.
Syn­op­sis:
Shep Knacker has worked hard all his life and pinched every penny to retire in an idyl­lic third world coun­try where his money could last him for­ever.  Gly­nis, Shep's wife, always found some excuse whey "now" is not the right time to go.  Shep had had enough and he announces that he is leav­ing with or with­out Glynis.
But Gly­nis found out she has can­cer and Shep puts his plans aside while his bank account starts drop­ping like a stone.
Pur­chase "so much for that" through the ManOfLa­Book affil­i­ate account on:
Ama­zon |Book Depos­i­tory US | Book Depos­i­tory UK
Give­away
Rules:

Con­test is for one (1) new copy of "so much for that".

There will be

ONE

(1)

WINNER



Must be a

US

/ Canada mail­ing Address

Ends Thurs­day March 24, 2011

Win­ners will be cho­sen using Random.org

Win­ners will have 24 hours after my ini­tial con­tact to write back their mail­ing address, oth­er­wise alter­nate win­ners will be picked
Con­grat­u­la­tions: bookquoter@
TLC Book Tour for "so much for that":

Tues­day, March 15th: In the Next Room
Wednes­day, March 16th: Book Club Clas­sics!
Thurs­day, March 17th: Man of La Book
Mon­day, March 21st: The Brain Lair
Mon­day, March 21st: Life Is A Patch­work Quilt
Wednes­day, March 23rd: Blog­gin' 'Bout Books
Thurs­day, March 24th: Stephanie's Writ­ten Word
Fri­day, March 25th: Col­lo­quium
Mon­day, March 28th: A Cer­tain Bent Appeal
Tues­day, March 29th: Life in the Thumb
Wednes­day, March 30th: Rag­ing Bibliomania
Zohar – Man of la Book
Related arti­cles
BOOK BLOGGERS — Have you read "so much for that"? If so link up your review below
Enjoy this post? Why don't you sign up for the RSS feed