About:
Rocamora by Don­ald Michael Platt is a his­tor­i­cal fic­tion book tak­ing place in 17th Cen­tury Spain. This book was the 2012 final­ist in the Inter­na­tional Book Awards for His­tor­i­cal Fiction.
408 pages
Pub­lisher: Raven's Wing Books
Lan­guage: English

ISBN-10

: 1618070150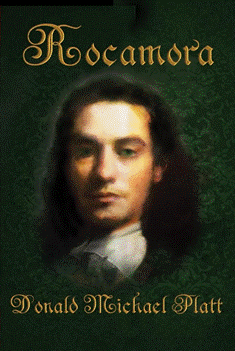 My rat­ing for Rocamora — 5

Buy this book in paper or elec­tronic format*
More Books by Don­ald Michael Platt
Thoughts:
Rocamora by Don­ald Michael Platt (web­site) is based on the life of Vicente de Rocamora a poet, fighter and Domini­can priest who was thrust into the schem­ing court of King Philip IV. Rocamora became the con­fes­sor for the king's younger sis­ter, the beau­ti­ful Infanta Doña María and was con­sid­ered as a strong can­di­date for Inquisi­tor General.
I found this book to be a first-rate his­tor­i­cal novel; I learned a lot of his­tory from the book, about life in Spain and the Inqui­si­tion, as well as fol­low­ing the story in vivid detail. Mr. Platt weaves his story around the his­tory and doesn't change the facts to fit his story (at least I couldn't find any glar­ing cases of such).
The novel cer­tainly let's the reader feel the glory of Spain fad­ing dur­ing the reign of Philip IV, while Count Duke Oli­vares act­ing as prime min­is­ter (in today's terms). The author also weaves in the con­se­quences which Spain suf­fered under reli­gious fanat­ics, anti-Semitism and cor­rup­tion of the aristocracy.
This is a solid, well writ­ten his­tor­i­cal novel with plenty of his­tor­i­cal back­ground, the dia­logue is believ­able with Span­ish words and phrases pep­pered through­out (the author always man­ages to trans­late them or let you know what they mean based on fur­ther read­ing). The nar­ra­tive keeps the reader turn­ing the pages with. The author describes each out­fit, room, weapon and char­ac­ters to extreme detail, while it some­times weighed down the story I found them to be inter­est­ing as well as part of the charm and authen­tic­ity of the book.
Buy this book in paper or elec­tronic format*
More Books by Don­ald Michael Platt
 Zohar — Man of la Book
Dis­claimer: I got this book for free from His­tor­i­cal Fic­tion Vir­tual Book Tours.
*Ama­zon links point to an affil­i­ate account
Enjoy this post? Why don't you sign up for the RSS feed