About:
Randy Bachman's Vinyl Tap Sto­ries is a non-fiction book by the famous rocker. Randy Bach­man, a musi­cian from Win­nipeg who was in the Guess Who, BTO and other bands tells about his career and the peo­ple he met.
288 pages
Pub­lisher: Pintail
Lan­guage: English

ISBN-10

: 0670066591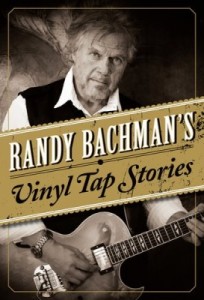 My rat­ing for Randy Bachman's Vinyl Tap Sto­ries - 4
By this book in paper or elec­tronic format*
Thoughts:
Randy Bachman's Vinyl Tap Sto­ries is a short book with many short sto­ries. Mr. Bach­man has sat down and wrote down great mem­o­ries from a great career, read­ing the book I felt as if he would play a song after each story.
My favorite story is one of the longer ones about Les Paul. Mr. Bach­man saw Les Paul play at his home­town in Canada where he watched through the kitchen door since he was too young to enter the premises. Mr. Paul talked a bit with the young gui­tarist and showed him how he played a song. Fast for­ward years later when, now estab­lished musi­cian Randy Bach­man was intro­duced to Les Paul who actu­ally remem­bered the-kid-from-the-restaurant and about an encounter even later when they got to play together.
Appro­pri­ately enough, but less inter­est­ing to me, the longest sec­tion in the book is the one where Bach­man talks about gui­tars and goes into details about the sound the struc­ture of them. I am not a musi­cian, never was, never will be, but I found that part inter­est­ing because my ears can­not hear those sub­tle differences.
I did enjoy the book very much and I had an advanced reader's copy (ARC) but I do think the book need to be tighter. I enjoyed the infor­mal style which, I'm sure, works great if you know Mr. Bach­man (I don't) or lis­ten to his radio show (never did) but for me, some of it sim­ply didn't work. Many short anec­dotes end with sen­tences sim­i­lar to "what a great guy" and such, leav­ing the reader hang­ing in the air.
Frankly, despite the para­graph above, I wish more celebri­ties would write such books of per­sonal sto­ries. Mr. Bach­man is not only a musi­cian, but a fan and it comes across clearly in the book. I could actu­ally feel him get excited when he talks about meet­ing peo­ple he admired or being invited to play with child­hood heroes.
By this book in paper or elec­tronic format*
Zohar — Man of La Book
Dis­claimer: I got this book for free.
*Ama­zon links point to an affil­i­ate account
BOOK BLOGGERS — Have you read Randy Bachman's Vinyl Tap Sto­ries? If so link up your review below:
Enjoy this post? Why don't you sign up for the RSS feed