I got this book for free as part of the TLC Book Tour pro­mo­tion.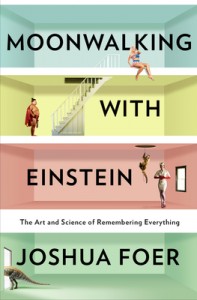 My rat­ing for Moon­walk­ing with Ein­stein — 5
About:
"Moon­walk­ing with Ein­stein: The Art and Sci­ence of Remem­ber­ing Every­thing" by Joshua Foer is a mem­oir of the author's attempted to win the U.S. mem­ory cham­pi­onship. Along the way Mr. Foer attempts to explain some tricks, tech­niques and the sci­ence around mem­ory.
Pur­chase "Moon­walk­ing with Ein­stein"
through the ManOfLa­Book affil­i­ate account on:
Ama­zon |Book Depos­i­tory US | Book Depos­i­tory UK
Thoughts:
"Moon­walk­ing with Ein­stein: The Art and Sci­ence of Remem­ber­ing Every­thing" by Joshua Foer is a fab­u­lous mem­oir which is not only per­sonal and infor­ma­tive, but also highly enter­tain­ing.
As a jour­nal­ist, Mr. Foer became inter­ested in those "men­tal ath­letes" who can mem­o­rize ran­dom data (order of packs of cards, long lists, etc.) when he cov­ered the U.S. Mem­ory Cham­pi­onship as an assign­ment. As he researched more into this area he became intrigued and won­dered if he could do it also.
At the start of his research, Mr. Foer went to meet psy­chol­o­gist Anders Eric­s­son who stud­ies those with excep­tional mem­ory. "SF" can remem­ber 80 dig­its after a sin­gle hear­ing, for exam­ple. Dur­ing Foer's attempt, Eric­s­son would study him – a man with­out an excep­tional mem­ory. How­ever, in a very poignant part of the book he also meets with a man who com­pletely lost his short term memory.
Over the next year Foer stud­ied hard to improve his mem­ory, or rather improve mem­o­riz­ing ran­dom stuff (there is a dif­fer­ence as we find out). The path we find our­selves going along with Mr. Foer on his jour­ney is delight­ful, invent­ing and funny, the peo­ple he meets are inter­est­ing and quirky.
Exper­i­ment:
Is the human mind really sus­cep­ti­ble to the clever tricks Mr. Foer describes in his book?
I attempted to find out.
One of the mem­o­riza­tion tech­niques involves a "mem­ory palace" and is sup­pos­edly a very old method. The tech­nique involves imag­in­ing your­self walk­ing around a famil­iar build­ing and plac­ing objects on a list in that build­ing (your home, first grad class, grandma's home, etc.).
Sup­pos­edly if you walk your way through that "mem­ory palace" again you should be able to retrieve those items with­out an issue.
On pages 92–93 Mr. Foer describes his first mem­o­riza­tion list given to him in Cen­tral Park by Eng­lish mem­ory cham­pion Ed Cooke (Pick­led gar­lic, Cot­tage cheese, salmon, six bot­tles of white wine, socks, three hula hoops, snorkel, dry ice machine, email Sophia, etc.)
As I walked though my home, in my mind, I placed all fif­teen items around my house (using quirky sto­ries such as hav­ing three Hawai­ian dancers per­form with hula hoops on my son's train table) and, believe it or not, it worked.
It amazed me so much I came home and asked my wife to do the same thing.
Guess what?
She did and she was amazed as well. Over the next sev­eral days we chal­lenged one another, in ran­dom places, to name the list.
As it turned out, learn­ing mem­o­riza­tion was a part of every school cur­ricu­lum in the early years of the coun­try — how­ever, from some rea­son, it has been aban­doned.
That's too bad.
Syn­op­sis:
The book fol­lows the grip­ping jour­ney taken by Joshua Foer as he par­tic­i­pates in the U.S. Mem­ory Cham­pi­onship. As a sci­ence jour­nal­ist Foer becomes inter­ested in the cham­pi­ons' secrets as well as the secrets of the brain which we still do not fully understand.
Foer learns how to nat­u­rally mem­o­rize infor­ma­tion with the help of experts and to mas­ter tech­niques which make mem­o­riza­tion easier.
Pur­chase "Moon­walk­ing with Ein­stein"
through the ManOfLa­Book affil­i­ate account on:
Ama­zon |Book Depos­i­tory US | Book Depos­i­tory UK
TLC Book Tour for "Moon­walk­ing with Ein­stein":

Wednes­day, Feb­ru­ary 23rd: Non­such Book
Thurs­day, Feb­ru­ary 24th: Debbie's World of Books
Fri­day, Feb­ru­ary 25th: Book Club Clas­sics!
Wednes­day, March 2nd: Ken Jen­nings
Thurs­day, March 3rd: Amy Reads
Fri­day, March 4th: Eclectic/Eccentric
Mon­day, March 7th: Man of La Book
Wednes­day, March 9th: Sophis­ti­cated Dork­i­ness
Thurs­day, March 10th: In the Next Room
Tues­day, March 15th: Mnemotechnics.org
Thurs­day, March 17th: Mind Your Deci­sions
Thurs­day, March 31st: Lux­ury Reading
Zohar — Man of la Book

Related arti­cles
BOOK BLOGGERS — Have you read "Moon­walk­ing with Ein­stein"? If so link up your review below

Enjoy this post? Why don't you sign up for the RSS feed