About:
"Miss Peregrine's Home for Pecu­liar Chil­dren" by Ran­som Riggs is a fic­tional book set in two time­lines. The book is pep­pered with vin­tage pho­tographs which help it achieve a chill­ing effect.
352 pages
Pub­lisher:Quirk Books

ISBN

: 1594744769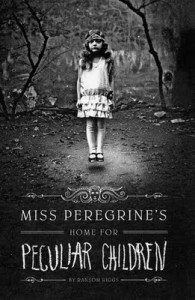 My rat­ing for Miss Peregrine's Home for Pecu­liar Chil­dren — 4
Buy & Save on "Miss Peregrine's Home for Pecu­liar Chil­dren"
through the ManOfLa­Book affil­i­ate account on:
Ama­zon | Kin­dle | Book Depos­i­tory US | Book Depos­i­tory UK
Thoughts:
"Miss Peregrine's Home for Pecu­liar Chil­dren" by Ran­som Riggs (Web­site | Twit­ter | Face­book | YouTube) is a whim­si­cal tale with a unique premise. The story is com­bined with old pho­tographs which are used through­out the story.
This book reminded me a bit of the X-Men comic books, unusual, imag­i­na­tive and thrilling which com­bines adven­ture and fan­tasy. The chil­dren in the book are pecu­liar because each of them has a spe­cial power. The pro­tag­o­nist, Jacob, grows up lis­ten­ing to his grandfather's story about this orphan­age in which he once belonged. Think­ing his grand­fa­ther made up sto­ries about super-powered chil­dren and evil mon­sters Jacob dis­cov­ers that maybe he should have lis­tened better.
The mys­tery in the book is used as a setup to intro­duce the char­ac­ters, but I loved Jacob's search which, for me, was the main part of the story. The "bad guys" in the book are not as devel­oped and a bit fuzzy which is in direct con­trast to some of the other char­ac­ters which are well drawn.
The book is tar­gets the young adults (YA) mar­ket, which it is per­fect for. I think many young adults will find this book thrilling, I know I did and that I cer­tainly enjoyed these type of books as a teen.
It seemed obvi­ous to me that this book is the first of a series. I'm cer­tainly look­ing for­ward for the sec­ond book in the series. I'm espe­cially inter­ested in the adven­tures of Abe Port­man, Jacob's grand­fa­ther in World War II.
So tell me, have you ever read a book which was obiv­i­ously meant to be first of a series? What did you think?


Syn­op­sis:
Six­teen year old Jacob Port­man wants the lead a life of adven­tures, just the kind his beloved grand­fa­ther described to him over and over again. As he grows older Jacob real­izes he just wants to be normal.
Jacob finds his grand­fa­ther dying and is a wit­ness to his cryp­tic last words and his mur­derer which is so strange he is soon con­vinced that it was sim­ply a fig­ment of his imag­i­na­tion. On advice from his psy­chi­a­trist, Jacob and his father travel to Wales on a geneal­ogy project to dis­cover the long lost orphan­age which Abe Port­man was once part of.
Buy & Save on "Miss Peregrine's Home for Pecu­liar Chil­dren"
through the ManOfLa­Book affil­i­ate account on:
Ama­zon | Kin­dle | Book Depos­i­tory US | Book Depos­i­tory UK
Zohar — Man of la Book
BOOK BLOGGERS — Have you read "Miss Peregrine's Home for Pecu­liar Chil­dren"? If so link up your review below:
Related arti­cles
BOOK BLOGGERS — Have you read "Miss Peregrine's Home for Pecu­liar Chil­dren"? If so link up your review below:
Enjoy this post? Why don't you sign up for the RSS feed