I got this book for free as part of the TLC Book Tour pro­mo­tion.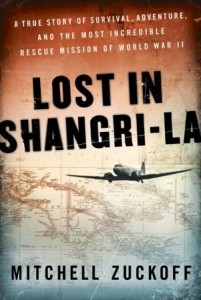 My rat­ing for Lost in Shangri-La — 5
About:
"Lost in Shangri-La" by Mitchell Zuck­off (web­site) is a non-fiction book about a plane crash in Dutch New Guinea dur­ing World War II. This book is nar­ra­tive his­tory at its best.
400 pages
Pub­lisher: Harper

ISBN

: 0061988340
Pur­chase "Lost in Shangri-La" through the ManOfLa­Book affil­i­ate account on:
Ama­zon |Book Depos­i­tory US | Book Depos­i­tory UK
Thoughts:
"Lost in Shangri-La" by Mitchell Zuck­off is a grip­ping book which takes a hold of you from page one, and doesn't let go until the very end. Mr. Zuck­off makes his­tory comes alive by intro­duc­ing the reader to the sur­vivors, those who died, the res­cuers, friends and fam­ily. I was so engrossed in the book I felt almost as if my friends were the ones on the ground.
Mr. Zuck­off relies on per­sonal diaries, inter­views, declas­si­fied doc­u­ments, film footage and more to bring this mes­mer­iz­ing tale to life. This book is not a glo­ri­fi­ca­tion of the US Army or World War II, after all – a mil­i­tary plane crashed dur­ing a joy ride. But the book is about the human spirit.
Focus­ing on the sur­vivors, WAC Cor­po­ral Mar­garet Hast­ings, Lieu­tenant John McCol­lom, and Sergeant Ken­neth Decker, the author pays par­tic­u­lar atten­tion not to tell the story solely from their point of view, but also gives much do credit to the unsung heroes, the para­troop­ers, medics, sup­port per­son­nel and the natives.
Medics Cpl. Ramirez and Sgt. Bulatao with WAC Cpl. Mar­garet Hast­ings (notice her ban­daged legs)
near the crash site.
Pic­ture from http://www.west-papua.nl
The natives play a huge part in the book, one could say that the res­cue wouldn't have been suc­cess­ful with­out their involve­ment. Mr. Zuck­off does a fan­tas­tic job research­ing and try­ing to under­stand their com­plex cul­ture. I don't know if any­one involved real­ized how frag­ile the res­cue was due to the ter­rain and the per­ma­nent state of war between the natives.
The real strength of the book is the char­ac­ter­i­za­tion of the real-life fig­ures, not only of the sol­diers involved, but also of the natives whose lives have been for­ever changed. Each one is writ­ten about in a very per­sonal way which makes you want to jump in the pages and shake their hands.
After let­ting the read­ers know how each mem­ber of the huge cast faired off, the book ends on a very thought pro­vok­ing note. The natives' lives were dis­rupted, even though their way of liv­ing seemed prim­i­tive to us, it worked for them. In a few short decades their way of life barely exists, proud war­riors now pose for pho­tos and their land destroyed for minerals.
So tell me, are all the com­forts of life really an advance in cul­ture?
(And please try and do so in more than 140 characters).
Syn­op­sis:
Hol­lan­dia, Dutch New Guinea was a strate­gic area dur­ing World War II, Gen­eral McArthur made it his head­quar­ters before the Philip­pines inva­sion. How­ever, life was rough in Hol­lan­dia and the sol­diers worked hard. To raise moral Colonel Peter Prossen gave the sol­diers a treat – a sight­see­ing tour, from the air, of a lost val­ley unknown to car­tog­ra­phers com­plete with natives.
The val­ley was nick­named Shangri-La
Dur­ing one trip the trans­port plane crashed, killing almost every­one on board. The oth­ers had to fend for them­selves in a hos­tile envi­ron­ment hop­ing res­cue is on its way.
Pur­chase "Lost in Shangri-La" through the ManOfLa­Book affil­i­ate account on:
Ama­zon |Book Depos­i­tory US | Book Depos­i­tory UK
TLC Book Tour for "Lost in Shangri-La"
Tues­day, April 26th: Act­ing Bal­anced
Tues­day, April 26th: Silver's Reviews
Wednes­day, April 27th: Word­smitho­nia
Thurs­day, April 28th: Man of La Book
Mon­day, May 2nd: The Lost Entwife
Tues­day, May 3rd: Chaotic Com­pendi­ums
Wednes­day, May 4th: Dream­ing About Other Worlds
Mon­day, May 9th: Read­ing Lark
Wednes­day, May 11th: Life is Short. Read Fast.
Thurs­day, May 12th: Wan­der­ing Thoughts of a Sci­en­tific House­wife
Tues­day, May 17th: Choco­late & Crois­sants
Wednes­day, May 18th: The Ser­pen­tine Library
Thurs­day, May 19th: Among Sto­ries
Mon­day, May 23rd: Sarah Reads Too Much
Tues­day, May 24th: Lay­ers of Thought
Wednes­day, May 25th: A Blog About His­tory
Thurs­day, May 26th: My Read­ing Room
Zohar — Man of la Book
BOOK BLOGGERS — Have you read "Lost in Shangri-La"? If so link up your review below:
Enjoy this post? Why don't you sign up for the RSS feed