I bor­rowed this book from the local library.
About:
"Killing Rom­mel
" is a
his­tor­i­cal fic­tion
novel by Steven Press­field (
web­site
|
Twit­ter
|
Face­book)
which takes place in the early 1940's when Gen­eral
Erwin Rom­mel
's (The Dessert Fox) troops were intent on cap­tur­ing the Mid East oil fields in order to sup­port Germany's war machine in its attempt of world con­quest.
Stop­ping the Eight Army was an essen­tial and sig­nif­i­cant part of the Allies' coun­terof­fen­sive plan. 
320 pages
Pub­lisher: Broadway

ISBN

: 0767926161
Pur­chase "Killing Rom­mel" through the ManOfLa­Book affil­i­ate account on:
Ama­zon |Book Depos­i­tory US | Book Depos­i­tory UK
Thoughts:
"Killing Rom­mel
" by Steven Press­field is not only a fas­ci­nat­ing story about the
Long Range Dessert Group
(
LDRG
), but it is also an
accu­rate por­trayal
of how war is fought — months of bore­dom pep­pered with sec­ond and moments of sheer exhil­a­ra­tion, dis­or­ga­ni­za­tion and horror.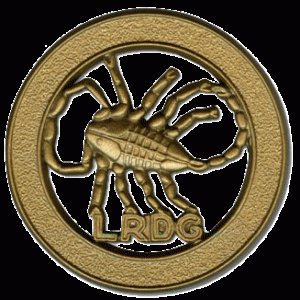 Long Range Dessert Group (

LRDG

) Badge
The story is rich in detail; the author describes the tanks, guns, trucks, tac­tics and more with a lot of pas­sion and eye for the obvi­ous and not-so obvi­ous. The book intro­duces the leg­ends of not only the LRDG, but also the con­tri­bu­tion of the Spe­cial Air Ser­vice (SAS) as well as Popski's Pri­vate Army - a group which I must read some more about.
Even though the details are some­times exhaust­ing, I for­got that I was read­ing a fic­tional account (even though the author main­tained that the events were real, but expe­ri­enced by sev­eral patrols) and felt as if I was read­ing an excit­ing his­tory book about these dar­ing raids.
Erwin Rom­mel — The Dessert Fox
Syn­op­sis:
The story  is pre­sented through the eyes of Lieu­tenant R. Lawrence Chap­man (Chap) a fic­tional tank com­man­der who was "loaned" to a famed com­mando unit called the Long Range Dessert Group (LDRG) to help asses the dessert for pass­able routes when the big inva­sion comes.
Chap quickly becomes friends with his the mem­bers of his new unit and meets some his­tor­i­cal per­son­al­i­ties which have since become leg­endary(Jake Eason­smith, Paddy Mayne, Ron Tin­ker, Nick Wilder, Vladimir "Pop­ski " Peni­akoff and more). These per­son­al­i­ties give his­tor­i­cal authen­tic­ity to this fic­tional account of war. One of the group's mis­sions is to find out where Rom­mel is and call in an air-strike, hence the title of the book.
Pur­chase "Killing Rom­mel" through the ManOfLa­Book affil­i­ate account on:
Ama­zon |Book Depos­i­tory US | Book Depos­i­tory UK
BOOK BLOGGERS — Have you read "Killing Rom­mel"? If so link up your review below
Enjoy this post? Why don't you sign up for the RSS feed