About:
It Doesn't Take a Hero : The Auto­bi­og­ra­phy of Gen­eral H. Nor­man Schwarzkopf is a grip­ping book, orig­i­nally pub­lished in 1993. Recently we have lost this great man and I decided to revisit the book which I enjoyed tremen­dously when it was first published.
640 pages
Pub­lisher: Ban­tam; Ban­tam Paper­back Ed edition
Lan­guage: English

ISBN-10

: 0553563386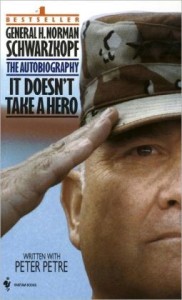 My rat­ing for It Doesn't Take a Hero — 5
Buy this book in paper or in elec­tronic format*
Thoughts:
It Doesn't Take a Hero by  H. Nor­man Schwarzkopf is, at its heart, an auto­bi­og­ra­phy of a great exec­u­tive, sol­dier and gen­tle­man. While I'm usu­ally par­tial to auto­bi­ogra­phies, I truly enjoyed this one which seemed hon­est and less self serv­ing than many oth­ers. Gen­eral Schwarzkopf admits mis­takes, and posi­tions he has taken for polit­i­cal rea­sons. Those inner reflec­tions make a very inter­est­ing read about deci­sion mak­ing in the higher ranks of the military.
Gen­eral Schwarzkopf cov­ers his early child­hood in New Jer­sey as well as, believe it or not, his Swiss boarding-school expe­ri­ence. An inter­est­ing seg­ment in young Schwarzkopf's child­hood takes place in Iran, where his father worked. The General's time in West Point closes out the for­mal edu­ca­tion before he is sent off to serve in Vietnam.
The start of the buildup of the Gulf War (1990) is where the book takes off to rel­e­vancy not only when pub­lished, but today also since we are still fac­ing some of those issues, as well as many oth­ers. Gen­eral Schwarzkopf was assigned to Cen­tral Com­mand not long before Iraq invaded Kuwait, in this book the Gen­eral states that he pre­pared his troops for war in the Mid­dle East since, to his esti­ma­tion, a war in Europe is unlikely. As Bush 41 made it clear that Iraqi aggres­sion will not go unno­ticed, Gen­eral Schwarzkopf real­ized that he might be at the cen­ter of fight.
I have always had a keen inter­est in how deci­sions are made in the upper ech­e­lon of gov­ern­ment.
What is the think­ing behind those deci­sions?
What vari­ables are being con­sid­ered and why?
What is the process?
Etc.
The book does not dis­ap­point on this level as well, as the coali­tion, led by the United States, starts to build up with mas­sive deploy­ments in the sea, land and air the reader gets a look behind the scenes at the polit­i­cal arm twist­ing and maneu­ver­ing. The General's day to day life deal­ing with Saudi Kings and princes, the Joint Chiefs and politi­cians are an amaz­ing tes­ta­ment to the legacy he has left behind.
Gen­eral Schwarzkopf is an intel­li­gent man and it shows, his large per­son­al­ity shines through­out the book and he doesn't let his ego get in the way. The General's sense of duty comes across in a heart­warm­ing way, how­ever his insights and self-examination are what makes this book worth read­ing.
Zohar — Man of la Book
Dis­claimer: I got bought book.
*Ama­zon links point to an affil­i­ate account
Enjoy this post? Why don't you sign up for the RSS feed