About:
How to Lose a War at Sea: Fool­ish Plans and Great Naval Blun­ders edited by Bill Faw­cett is a col­lec­tion of non-fiction essays. Mr. Faw­cett wrote and edited many books includ­ing sev­eral of this genre.
368 pages
Pub­lisher: William Mor­row Paperbacks
Lan­guage: English

ISBN-10

: 0062069098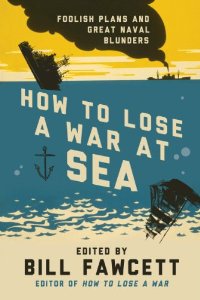 My rat­ing for How to Lose a War at Sea — 4
Buy this book in paper or elec­tronic format*
More Rec­om­mended World War II books on Man of la BookStore
Thoughts:
How to Lose a War at Sea edited by Bill Faw­cett is a fas­ci­nat­ing col­lec­tion of more than 30 short essays about naval war­fare and oceanic dis­as­ters. The book spans decades, there are essays rang­ing from the days of the Span­ish armada to naval blun­ders from the 1960s.
The essays, some­times sad, some­times funny but often ironic detail some of the worst gaffes, mis­takes and errors to hap­pen to the navies. These sto­ries tell of ego­ma­ni­acs whose egos didn't match real­ity, mis­cal­cu­la­tions, the effects of espi­onage and the impor­tance of plan­ning. I espe­cially liked the essays about the out­landish plans which one could imme­di­ately tell they wouldn't work, yet they some­how got a stamp of approval.
I found this book to be enter­tain­ing; I'm always amazed by bad mil­i­tary ideas (or ones which are just plain stu­pid) and how they changed his­tory.  The book is not, and is not meant to be, an encom­pass­ing his­tory of these events (for those pick up a book like The Hunt for Hitler's War­ship by Patrick Bishop) but it does give one a glimpse into inter­est­ing actswhich, if you choose, you can learn more about.
The book is an excel­lent choice for those inter­ested in his­tory, naval his­tory or even if you are sim­ply read­ing books in the off chance that Alex Tre­bek might call you out of the blue to be on Jeopardy.
Buy this book in paper or elec­tronic format*
More Rec­om­mended World War II books on Man of la BookStore
Zohar — Man of la Book
Dis­claimer: I got this book for free.
*Ama­zon links point to an affil­i­ate account
Enjoy this post? Why don't you sign up for the RSS feed