About:
How to Get Filthy Rich in Ris­ing Asia by Mohsin Hamid is a fic­tional book in guise of a self-help book (but with a story). Mr. Hamid has writ­ten two pre­vi­ous books which were very well received, how­ever this is the first book I have read from his pen.
240 pages
Pub­lisher: River­head Hardcover
Lan­guage: English

ISBN-10

: 1594487294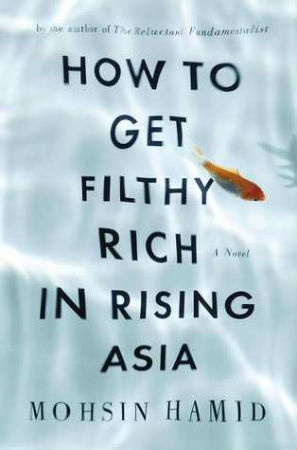 My rat­ing for How to Get Filthy Rich in Ris­ing Asia — 5
Buy this book in paper or in elec­tronic (Kin­dle enhanced with audio) format*
Thoughts:
At first I was a bit taken aback by the for­mat of How to Get Filthy Rich in Ris­ing Asia by Mohsin Hamid (web­site | Face­book | @mohsin_hamid), but I kept on read­ing as the novel expended into the uni­verse of an unnamed pro­tag­o­nist and his rise in the busi­ness world of Asia. Once I got used to the for­mat and the writ­ing style, I found a delight­ful book with a sim­ple, yet rapid story full of love and hope.
In between each chap­ter a decade or so passes, the reader is left to fig­ure out the blanks (it's not dif­fi­cult). We meet our pro­tag­o­nist when he's a young boy, next a teen, a man at the start of his career, soon we jump to meet him as a mar­ried busi­ness­man (with­out any men­tion of the wife pre­vi­ously), etc. – you get the idea. A life in chap­ters, each chap­ter starts with a sup­posed busi­ness les­son, but the author inter­weaves busi­ness with a full life filled with love, hap­pi­ness and regrets.
The more I read How to Get Filthy Rich in Ris­ing Asia, the more I real­ized how our own lives can be sim­ply told in chap­ter head­ings. I'm sure many peo­ple think of their lives in such a way, divided into mem­o­rable and / or impor­tant events. For myself I found that life's chap­ter head­ings are not always what you would imag­ine. For exam­ple I remem­ber the moment I told my par­ents I'd be join­ing the Army much clearer then the whole expe­ri­ence itself.
The novel takes a cyn­i­cal and sar­donic look at a devel­op­ing nation with all it's quirks, pos­i­tives and neg­a­tives aspects. The book helped me under­stand the real­ity in which peo­ple live, their strug­gles and pro­vided a per­sonal, despite the anonymity, story behind local eco­nomic forces. In Hamid's world there is no "mak­ing do", you either make it or you don't using what­ever means are at your dis­posal (rich par­ents, con­nec­tions, bribes — all which are cov­ered in the "man­ual") while lux­u­ries such as love and friend­ship are sim­ply in the way.
Syn­op­sis:
An uniden­ti­fied pro­tag­o­nist works towards his dream of becom­ing filthy rich. His jour­ney from a poor boy to a cor­po­rate leader is chron­i­cled in this book shaped as a busi­ness self-help book.
How­ever, this young man can­not help but think about a pretty girl he once encoun­tered. The pretty girl's path is cross­ing with his rise in the busi­ness world through­out their lives.
Buy this book in paper or in elec­tronic (Kin­dle enhanced with audio) format*
Zohar — Man of la Book
Dis­claimer: I got this book for free from.
*Ama­zon links point to an affil­i­ate account
Enjoy this post? Why don't you sign up for the RSS feed