About:
Hitler's Furies: Ger­man Women in the Nazi Killing Fields by Wendy Lower is a non-fiction book depict­ing the hor­rific and stun­ning roles women played in the Third Reich. Ms. Lower is an Amer­i­can his­to­rian who wrote sev­eral books about the Holo­caust, she pre­sented this new infor­ma­tion in Yad Vashem , the Holo­caust Mar­tyrs' and Heroes' Remem­brance Author­ity in Jerusalem.
288 pages
Pub­lisher: Houghton Mif­flin Harcourt
Lan­guage: English

ISBN-10

: 0547863381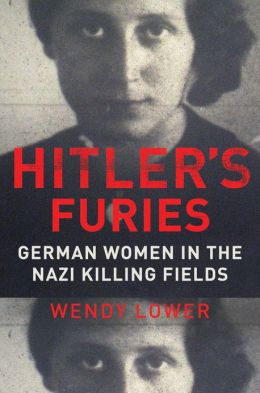 My rat­ing for Hitler's Furies — 5
Buy this book in paper, elec­tronic or audio format*
More Rec­om­mended World War II books on Man of la BookStore
Thoughts:
""[T]he con­sen­sus in Holo­caust and geno­cide stud­ies is that the sys­tems that make mass mur­der pos­si­ble would not func­tion with­out the broad par­tic­i­pa­tion of soci­ety, and yet nearly all his­to­ries of the Holo­caust leave out half of those who pop­u­lated that soci­ety, as if women's his­tory hap­pens some­where else."
I always find books about the col­lec­tive psy­chol­ogy of Ger­mans dur­ing World War II fas­ci­nat­ing. Why would any­one allow such geno­cide to hap­pen? What were they think­ing? How could they turn a blind eye to such cru­elty? How could peo­ple, oth­er­wise good and descent, can par­tic­i­pate in mass murder?
In her excel­lent book, Hitler's Furies: Ger­man Women in the Nazi Killing Fields author Wendy Lower brings new evi­dence about the Holo­caust as well as answer­ing some of the ques­tions above as well as shed­ding light on the role of women per­pe­tra­tors. Ms. Lower tells dis­turb­ing tales of pro­fes­sional women (nurses, sec­re­taries, etc.) who knew about, helped and or par­tic­i­pated in killings as well as those who were there as part .
The Nazi pro­pa­ganda machine not only con­di­tioned women to accept and tol­er­ate vio­lence, but also to par­tic­i­pate in it. The Third Reich not only insisted on women hon­or­ing the 3 Ks (Kinder, Küche, Kirche – chil­dren, kitchen, church), but also mobi­lized women to con­tribute to the ter­ror at home and in the occu­pied Ger­man ter­ri­to­ries either via admin­is­tra­tive work, moral sup­port (it's hard work killing hun­dreds a day and the mur­der­ers needed snacks, rest and psy­cho­log­i­cal sup­port) or active participation.
The author tells the sto­ries of Nazi moth­ers who shot, point blank, at scared Jew­ish kids who hap­pen to escape the train tak­ing them to the gas cham­bers (but she fed them first) or a house­wife of an SS offi­cer who took plea­sure in ram­ming Jews with her baby cart and bash­ing the heads of chil­dren in front of their par­ents. Women who sim­ply using their slaves as tar­get prac­tice from bal­conies or ones who used to take plea­sure at walk­ing into a Jew­ish children's hos­pi­tal in the Ghetto and throw­ing out sick kids from the third floor balcony.
The Reich's brain­wash­ing of racial purity was so suc­cess­ful many didn't ques­tion it. If you wanted a job or a pro­mo­tion you "did your duty" even if that meant mass mur­der. How­ever, this is not an excuse, in war time per­cep­tion of "right" and "wrong" get mud­died, but that usu­ally occurs on an indi­vid­ual scale, not when it comes to the assist and/or par­tic­i­pat­ing in geno­cide or a bas­tardized form of euthana­sia (killing your own sol­diers who were left men­tally or phys­i­cally injured in battle).
The author writes about the crimes and mur­ders these women com­mit­ted. Those crimes are insane, lur­ing hun­gry chil­dren over with the promise of candy only to shoot them in the mouth, bash­ing children's heads in the wall (in front of their fam­i­lies), gain­ing trust by serv­ing food and then a swift exe­cu­tion of scared, starv­ing and exhausted kids or rip­ping off limbs.
It's insane!
The author also asks impor­tant ques­tions which negates the women's claim that they "knew noth­ing". Ques­tions such as how did they miss the mass graves and smell of tens of thou­sands of corpses dur­ing their pic­nic out­ings? Who did they think the train­loads of clothes and jew­elry belong to?
The book also touches the fact that vio­lence is not a male dom­i­nated trait, we all have it but in women it comes out dif­fer­ently and the assump­tion that women won't engage in mass mur­der is wrong. This is a dan­ger­ous assump­tion, as the author points out because "min­i­miz­ing the vio­lent behav­ior of women cre­ates a false shield" by assum­ing that one half of the human race won't mur­der the other. But given the oppor­tu­nity, women par­tic­i­pate and engaged in geno­cide just like their male counterparts.
The book ends on a somber note, after World War II the role of the women (half a mil­lion, accord­ing to the author) has been min­i­mized and almost for­got­ten. Most of the women who assisted or par­tic­i­pated in the Holo­caust went on to live their lives, dying of old age with their fam­ily around.
Buy this book in paper, elec­tronic or audio format*
More Rec­om­mended World War II books on Man of la BookStore
Zohar — Man of la Book
Dis­claimer: I got this book for free.
*Ama­zon links point to an affil­i­ate account
Enjoy this post? Why don't you sign up for the RSS feed