About:
Hacks, Syco­phants, Adven­tur­ers, and Heroes: Madison's Com­man­ders in the War of 1812 by David Fitz-Enz is a non-fiction book which com­mem­o­rates the bicen­ten­nial of the war. Mr. Fitz-Enz is a host for tele­vi­sion his­tor­i­cal pro­gram­ming, author of sev­eral books and a dec­o­rated Viet­nam vet­eran who spent over thirty years in the US Army.
368 pages
Pub­lisher: Tay­lor Trade Publishing
Lan­guage: English

ISBN-10

: 1589797000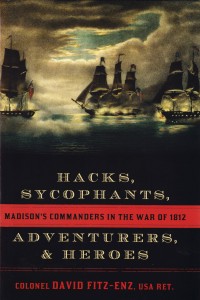 My rat­ing for Hacks, Syco­phants, Adven­tur­ers, and Heroes — 3
Buy this book from Amazon.com*
Thoughts:
Hacks, Syco­phants, Adven­tur­ers, and Heroes by David Fitz-Enz (web­site) is one of many books pub­lished at this time to com­mem­o­rate the War of 1812. One has to admire the pub­li­ca­tions because I found that that among many of my coun­try­men (and women) the igno­rance about this impor­tant time in our his­tory is astound­ing.
Maybe because we got our butts kicked?
There is much infor­ma­tion about the war and a lot to digest. Mr. Fitz-Enz did the reader a favor by pre­sent­ing his analy­sis in a series of short bio­graph­i­cal chap­ters about key per­son­nel in the war. Some of the key fig­ures were com­pe­tent, some sim­ply looked for their own advance­ment, oth­ers took on respon­si­bil­i­ties which they were not qual­i­fied for and caused disaster.
The author shows very good writ­ing and analy­sis abil­i­ties through­out the book, while Madi­son is hardly men­tioned (even though his name is in the title), the President's abil­ity to choose com­man­ders (or lack thereof) is cer­tainly implied. I thought that the short bio­graph­i­cal for­mat is an excel­lent choice to ben­e­fit new read­ers, but the for­mat lacks an over­all "story". The chap­ters seem to be out of chrono­log­i­cal order and there are many quotes through­out the book, some which go on for pages. While I agree with the author's asser­tion that some­times it's bet­ter to let the peo­ple tell their own story, in a book which is sup­posed to be an intro­duc­tion that could be a frus­trat­ing experience.
If you like an intro­duc­tion to the War of 1812 and its lead­ers, this book is for you. The author can write an engag­ing analy­sis which I'm sure will be pop­u­lar with read­ers who express an inter­est in the time period or Amer­i­can history.
Related Reads:
James Madi­son by Garry Wills
Andrew Jack­son: His Life and Times by H.W. Brands
Buy this book from Amazon.com*
Zohar — Man of la Book
Dis­claimer: I got this book for free
*Ama­zon links point to an affil­i­ate account
BOOK BLOGGERS — Have you read Hacks, Syco­phants, Adven­tur­ers, and Heroes? If so link up your review below:
Enjoy this post? Why don't you sign up for the RSS feed