About:
Des­tiny of the Repub­lic: A Tale of Med­i­cine, Mad­ness and the Mur­der of a Pres­i­dent by Can­dice Mil­lard is a non-fiction account of the assas­si­na­tion of Pres­i­dent James A. Garfield. Mr. Garfield was the 20th Pres­i­dent of these United States and the sec­ond one to be assas­si­nated in office.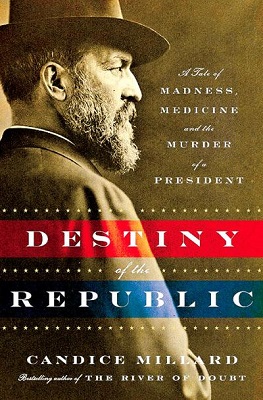 My rat­ing for Des­tiny of the Repub­lic — 5
Buy this book in paper or elec­tronic format*
More Books by Can­dice Millard
Thoughts:
I picked up Des­tiny of the Repub­lic by Can­dice Mil­lard because her first book The River of Doubt: Theodore Roosevelt's Dark­est Jour­ney is a favorite of mine. I must admit that I didn't know much about Pres­i­dent Garfield before read­ing this book, I some­what remem­ber my his­tory teacher men­tion­ing the assas­si­na­tion (and that only with some seri­ous prompts), but that's just about it.
My first sur­prise upon read­ing is that I actu­ally like Mr. Garfield, and admired him after fin­ish­ing the book. Garfield's story is a true "rags to riches" tale, the one of an hon­est man, who worked hard and was, undoubt­edly, a genius.
The research in the book is first class, the author ties in sev­eral sto­ries which cross each other toward the end. The story of the assas­si­na­tion, that of Alexan­der Gra­ham Bell who was try­ing to cre­ate a metal detec­tor to find the bul­let, Sen­a­tor Roscoe Con­kling of New York who exploited the polit­i­cal spoils sys­tem, and that of Joseph Lis­ter who was a pio­neer of anti­sep­tic surgery.
It is now well known, as it was in 1881, that Pres­i­dent Garfield died of infec­tion he got from his doc­tors and not from the bul­let wound. If his doc­tors would have used Lister's tech­niques (which were new at the time) he prob­a­bly would have been saved. How­ever, Garfield's death did pop­u­lar­ized Lister's meth­ods which saved thou­sands and thou­sands of people.
The Des­tiny of the Repub­lic reads like a novel, an excit­ing page turner which will keep you want­ing for more. The book rein­tro­duces the read­ers to Pres­i­dent Garfield as an elo­quent, strong willed and brave politi­cian whose legacy should be known to many more Americans.
Buy this book in paper or elec­tronic format*
More Books by Can­dice Millard
Zohar — Man of la Book
Dis­claimer: I bought this book.
*Ama­zon links point to an affil­i­ate account
Enjoy this post? Why don't you sign up for the RSS feed