About:
"A Death in Vienna" by Daniel Silva (web­site) is the fourth book in the fic­tional Gabriel Allon series. The book touches on revenge and jus­tice themes.
416 pages
Pub­lisher: Put­nam Adult

ISBN

: 9780399151439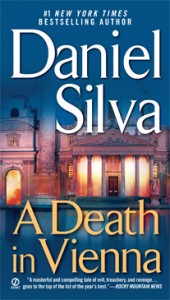 My rat­ing for A Death in Vienna — 5
Buy & Save on "A Death in Vienna" through the ManOfLa­Book affil­i­ate account on:
Ama­zon |Book Depos­i­tory US | Book Depos­i­tory UK
Thoughts:
"A Death in Vienna" by Daniel Silva is a well writ­ten book with a com­plex plot. The trail of clues which inter­min­gle with his­tor­i­cal events and touches com­plex and sen­si­tive polit­i­cal maze, is a plea­sure to read.
Daniel Silva is quickly becom­ing one of my favorite authors; his books are not only intel­li­gent and sophis­ti­cated, but also cred­i­ble. Mr. Silva is one of those authors that takes his his­tor­i­cal research seri­ously and it shows.
Which leaves me with a seri­ous prob­lem. No mat­ter how hard I try to put my thoughts down on one of Mr. Silva's book, I always end up sound­ing like a blurb on the dust jacket.
The plot is full of twists and turns, a won­der­ful cast of char­ac­ters (which might be dif­fi­cult to keep track of if you haven't read the pre­vi­ous books), worldly events and dou­ble cross­ing fig­ures. The novel is a great ride, Mr. Silva writes swiftly, the char­ac­ters are gun­ning for each other, twist­ing facts which are not imme­di­ately obvi­ous. Pay close atten­tion to this book.
Not falling into the trap of books of the genre which sim­ply quote facts and fig­ures as "part" of the sto­ry­line, the thriller tells a story while incor­po­rat­ing the plight of the Euro­pean Jews dur­ing the Holo­caust into its pages. Mr. Silva chooses to focus on an indi­vid­ual, a woman who is part of the death march from Birke­nau. A story so unbe­liev­able that even those who suf­fered through it almost can­not believe it has happened.
As the char­ac­ter in the book explains:
"No one is going to believe such a thing. No one is going to believe it's pos­si­ble to kill so many. Thou­sands? Surely, the death of thou­sands is pos­si­ble. After all, this was war. Hun­dreds of thou­sands? Per­haps. But mil­lions? To tell you the truth, I saw it with my own eyes, and even I can­not believe it."
The author does not try to make these events palat­able, the agony, mis­ery and inhu­man­ity is pul­sat­ing from the pages of the book. Mr. Silva takes his time with the book to intro­duce more back story in the protagonist's life. While it may not work if this is the first of the books in the series that you read, it cer­tainly works if you read them in order.
This book also deals with polit­i­cal issues and how Nazis got pro­tec­tion both from Euro­pean as well as the Amer­i­can gov­ern­ment. Coin­ci­den­tally, I saw this dis­turb­ing piece in today's news: Gerry Leit­mann, Aus­trian Politi­cian, Resigns Over Nazi 'Blood And Honor' Tattoo
So tell me, do you think right wing pol­i­tics still pose a threat in today's world?
About:
Israeli mossad agent Gabriel Allon is liv­ing a dou­ble life as an art restorer in Venice. Allon hears that his old friend, Eli Lavon, died as a result of an explo­sion in the Wartime Claims and Inquiries office in Vienna. At first Allon does not want to inves­ti­gate due to pre­vi­ous occur­rences in Vienna which cause him pain and suf­fer­ing, how­ever he is per­suaded by his boss to take on the case.
After arriv­ing in Vienna, Allon is approached by a man who says that Lavon has dis­cov­ered a hirgh rank­ing noto­ri­ous Nazi SS offi­cer liv­ing in Vienna who is well con­nected and on a gov­ern­ment pay­roll. The story leads Allon in a more per­sonal direc­tion and he finds out more his own mother's his­tory in holocaust.
Buy & Save on "A Death in Vienna" through the ManOfLa­Book affil­i­ate account on:
Ama­zon |Book Depos­i­tory US | Book Depos­i­tory UK
Zohar — Man of la Book
Dis­claimer: I bought this book.
Related arti­cles
BOOK BLOGGERS — Have you read "A Death in Vienna"? If so link up your review below:
Enjoy this post? Why don't you sign up for the RSS feed