About:
Girl with a Pearl Ear­ring by Tracy Cheva­lier is a his­tor­i­cal fic­tion novel tak­ing place in 17th Cen­tury Hol­land. The book has fas­ci­nat­ing descrip­tions of the times, how peo­ple lived and behaved.
256 pages
Pub­lisher: Plume; Deluxe edi­tion (August 30, 2005)
Lan­guage: English

ISBN-10

: 0452287022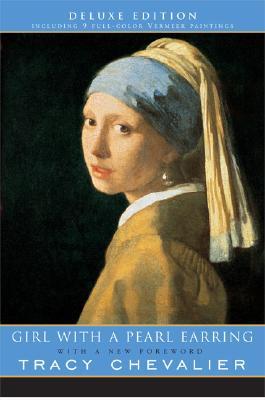 My rat­ing for Girl with a Pearl Ear­ring — 3
Buy this book in paper or in elec­tronic format*
 Thoughts:
Girl with a Pearl Ear­ring by Tracy Cheva­lier (web­site | Face­book | @Tracy_Chevalier)was nei­ther here nor there.
The story seems like an episode of the old British drama "Upstairs Down­stairs" set in Hol­land with a com­ing of age story neatly tucked in it as well. The plot is some­what inter­est­ing with one well devel­oped char­ac­ter (Griet) and none oth­ers I cared about.
The book is writ­ten very well but noth­ing hap­pens and for awhile I was actu­ally bored. Some of the char­ac­ters are well devel­oped but I was hop­ing for Johannes Vermeer's char­ac­ter to  be more in depth. To my dis­ap­point Ver­meer played a minor (yet impor­tant) part in the book.
How­ever, the descrip­tions of 17th Cen­tury Hol­land, the class sys­tem and mer­can­tile soci­ety were excel­lent, which by itself was worth fin­ish­ing the book. The descrip­tions of how the paint­ings were painted were amus­ing as well and since I had the "Deluxe Edi­tion" with 9 full color paint­ings I could flip back and forth, read­ing the descrip­tions and see­ing what they per­tained to.
I can cer­tainly see why many peo­ple loved this book, it is clas­si­cal, dra­matic and a plea­sure to read because (not despite) the slow pace. Tech­ni­cally, this is an excel­lent book and I can't wait to read more of  Ms. Chevalier's work.
Syn­op­sis:
A young woman named Griet arrives at Vermeer's house to be a new ser­vant. She had some tragedy in her fam­ily and so ended up a maid. As she gets to be part of the fam­ily, Ver­meer allows her to help him, due to her artis­tic eye. Even­tu­ally she poses for the famous "girl with a pearl ear­ring" paint­ing, which ends up being her undoing.
Buy this book in paper or in elec­tronic format*
Zohar — Man of la Book
Dis­claimer: I got bought this book.
*Ama­zon links point to an affil­i­ate account
Enjoy this post? Why don't you sign up for the RSS feed