About:
Above All Things by Tanis Ride­out is a his­tor­i­cal fic­tion account of George Mallory's 1924 attempt to climb Mt. Ever­est. It is still not known if Mallory's attempt was suc­cess­ful or not.
400 pages
Pub­lisher: Amy Ein­horn Books/Putnam
Lan­guage: English

ISBN-10

: 0399160582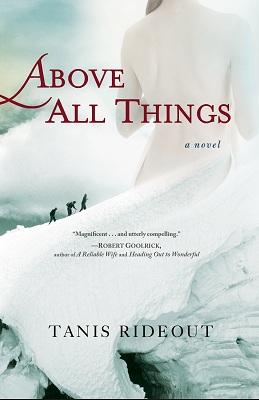 My rat­ing for Above All Things- 4
Buy this book in paper or in elec­tronic format*
Thoughts:
Above All Things by Tanis Ride­out (web­site | Face­book | @tanisrideout) is an excel­lent novel which moves at two speeds, slow (Ruth Mal­lory) and fast (George Mal­lory). Ms. Ride­out suc­ceeded in cre­at­ing an engag­ing book filled with excel­lent descrip­tions and believ­able characters.
The parts which I found the most fas­ci­nat­ing were the climb on Mt. Ever­est. The author does not roman­ti­cized the climb, I could feel the chills, the heav­i­ness and other ail­ments which come at being at such a high altitude.
Ms. Ride­out bril­liantly jux­ta­poses between Mr. Mallory's cel­e­brated climb and only a day in the life of Mrs. Mal­lory. You could not help but feel the help­less­ness of the cou­ple as they missed, craved and thought about each other but were still sup­port­ive from afar.
To the acute reader many intri­cate details are pro­vided with­out bring­ing the story to a grind­ing halt while pro­vid­ing beau­ti­ful descrip­tions of the Ever­est expe­di­tion while going into the mind of the climbers. The story is con­trasted with Mr. Mallory's obses­sion with the moun­tain and his fam­ily, while being unable to merge them both.
This is an inter­est­ing book to dis­cuss, the story is mul­ti­lay­ered, the nar­ra­tive is poetic and the action is excit­ing. I don't know much about moun­tain climb­ing or Mr. Mallory's his­tory, but I couldn't find any glar­ing mis­takes which took away from my enjoy­ment of the story.
Syn­op­sis:
In 1924 moun­taineer George Mal­lory and his team tried to con­quer Mt. Ever­est, in no small part to give the war weary peo­ple of Eng­land some­thing to cheer about. Mallory's wife, Ruth, is at Cam­bridge, Eng­land rest­lessly await­ing his return from the dan­ger­ous expedition.
Zohar — Man of la Book
Dis­claimer: I got this book for free.
*Ama­zon links point to an affil­i­ate account
Enjoy this post? Why don't you sign up for the RSS feed