About:
A Land More Kind than Home by Wiley Cash is a novel tak­ing place in a small town in North Car­olina. I saw a lot of great reviews and arti­cles about this book and thought that I might enjoy the story as well.
The pub­lisher is giv­ing away one copy of this book -to enter fill out the Raf­fle­copt­ter form at the end of the post.
320 pages
Pub­lisher: William Morrow
Lan­guage: English

ISBN-10

: 0062088149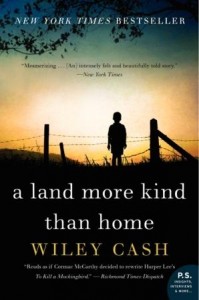 My rat­ing for  A Land More Kind than Home — 3
Buy this book in paper or in elec­tronic format*
Thoughts:
I had a tough time get­ting into A Land More Kind than Home by Wiley Cash (web­site | Face­book | @WileyCash). The first 80 pages or so seemed to drag and only when the sher­iff was intro­duced did the story pick up. even though the book is cat­a­loged under the "mys­tery" genre, the story is pretty much straight­for­ward and there is no mys­tery per-se.
From a tech­ni­cal aspect, this is a superb book. Mr. Wiley is extremely tal­ented and even though I might not have enjoyed the whole of the story, I cer­tainly enjoyed embrac­ing the lit­er­ary aspects of the nar­ra­tive. The real star of the book is the atmos­phere, which gives this time­less story a rich and expan­sive feeling.
The set of char­ac­ters is fan­tas­tic; each one of them prob­a­bly deserves a book of their own. I don't say this often (actu­ally, this is the first time I ever said this) but it would have ben­e­fited the book to have plus or minus 50 pages more of char­ac­ter devel­op­ment. The story is slow and steady, the drama builds up slowly but ends very quickly with­out giv­ing any char­ac­ter it's just due.
How­ever, many things hap­pen in the book, a lot of innu­en­dos and dark under­tones which could give book clubs hours of fun dis­cussing what was, could have been or would have been in the story (see the Read­ing Group Guide). It's too bad that the author chose to tell the story from the per­spec­tive of three char­ac­ters that all share the same per­spec­tive; it would have been inter­est­ing if another char­ac­ter who doesn't share their point of view has his or her say.
A Land More Kind than Home is a smooth, ele­gant and enjoy­able novel. The char­ac­ters are vivid and inter­est­ing. Mr. Cash has fan­tas­tic tal­ent which is sure to make him a ris­ing star in the lit­er­ary world and I am wait­ing to read more from his pen.
Syn­op­sis:
Jess Hall is a young man who has a lust for life and adven­ture, he is also pro­tec­tive of his older brother, Christo­pher, who is a mute and has devel­op­men­tal prob­lems. One day Christo­pher, also known as Stump, sees some­thing he's not sup­posed to and the con­se­quences are enormous.
Jess, Ade­laide Lyle, the town's mid­wife, and Clem Bare­field, the sher­iff, all nar­rate the story with their own unique per­spec­tive and painful history.
Buy this book in paper or in elec­tronic format*
Give­away
Give­away ends: Jan­u­ary 29, 2013

US

/Canada Ship­ping Addresses Only

No 

PO

 Boxes

Win­ners will have 24 hours to write back with their address, oth­er­wise an alter­nate win­ner will be picked
Congratulations:skkorman@
TLC

 Book Tour for A Land More Kind than Home by Wiley Cash :
Tues­day, Jan­u­ary 22nd: Man of La Book
Wednes­day, Jan­u­ary 23rd: The Book Garden
Thurs­day, Jan­u­ary 24th: Lit and Life
Mon­day, Jan­u­ary 28th: Book Addict Katie
Tues­day, Jan­u­ary 29th: Book­NAround
Wednes­day, Jan­u­ary 30th: No More Grumpy Bookseller
Thurs­day, Jan­u­ary 31st: Krit­ters Ramblings
Mon­day, Feb­ru­ary 4th: My Book­shelf
Wednes­day, Feb­ru­ary 6th: Stephany Writes
Wednes­day, Feb­ru­ary 13th: Sea­side Book Corner
Thurs­day, Feb­ru­ary 14th: Reflec­tions of a Bookaholic
Tues­day, Feb­ru­ary 19th: Lux­ury Reading
Zohar — Man of la Book
Dis­claimer: I got this book for free from TLC Book Tours.
*Ama­zon links point to an affil­i­ate account
Enjoy this post? Why don't you sign up for the RSS feed