About:
Frozen in Time: An Epic Story of Sur­vival and a Mod­ern Quest for Lost Heroes of World War II by Mitchell Zuck­off tells about the epic search for miss­ing World War II Coast Guard sol­diers who were on a res­cue mis­sion. The book pro­vides and intense glimpse into a for­got­ten moment in history.
The pub­lisher is giv­ing away one copy of this book -to enter fill out the Raf­fle­copt­ter form at the end of the post.
416 pages
Pub­lisher: Harper
Lan­guage: English

ISBN-10

: 0062133438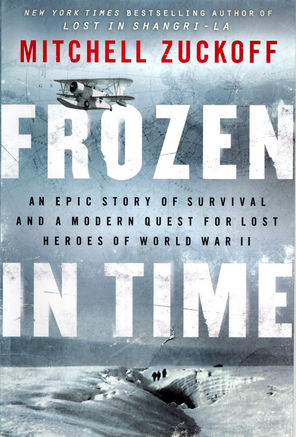 My rat­ing for Frozen in Time— 5
Buy this book in paper or in elec­tronic format*
More Books by Mitchell Zuckoff
More Rec­om­mended World War II books on Man of la BookStore
Thoughts:
I truly enjoyed Zuckoff's first book, Lost in Shangri-La and jumped on the chance to read Frozen in Time when I was offered. The book didn't dis­ap­point as Zuck­off has an uncanny abil­ity to tell a story in a per­sonal, yet com­pre­hen­sive way which leaves the reader yearn­ing for more.
The author describes Green­land as an almost extra-terrestrial land, a des­o­late world cov­ered in ice and snow with ever-changing land­scape which hum­bles the bravest of men. Dur­ing the win­ter of 1942/1943 a group of Amer­i­can fly­ers were stuck on the ice, Zuck­off takes the reader to that time and the suf­fer­ing which they endured, hop­ing beyond rea­son for a rescue.
The book is actu­ally com­posed of two sto­ries, one tak­ing place dur­ing World War II when res­cue attempts are made to res­cue a fallen air­plane crew, the sec­ond dur­ing a mis­sion to find the miss­ing Coast Guard res­cuers. Both parts are inter­est­ing, engag­ing and enlight­en­ing, the strate­gic impor­tance of Ice­land is dis­cussed as well as the impor­tance of find­ing the miss­ing men. The author took part of the recov­ery effort which gave the book an inter­est­ing twist, a his­to­rian mak­ing history.
This is an excit­ing story about many brave men and women who are try­ing to do what's right dis­re­gard­ing per­sonal safety. Mr. Zuck­off wrote an intense nar­ra­tive of thrilling adven­tures of hope and sur­vival, well researched and dra­matic with a mod­ern twist.
Syn­op­sis:
Dur­ing the win­ter of 1942 a C-53 cargo plane crashed in Ice­land, almost imme­di­ately res­cue mis­sions were started. Sur­viv­ing in the frozen tun­dra in sub-zero tem­per­a­tures is almost impos­si­ble and every­one knows it, it is imper­a­tive to get to the crew as quickly as pos­si­ble. How­ever, one of the res­cue attempts falls short and the Coast Guard plane, a Grum­man Duck, crashes as well.
Fast for­ward sev­eral decades later, Lou Spaienza is try­ing to retrieve the bod­ies of the US ser­vice­men under a deep belief that no-one, dead or alive, should be left out in the field. Mr. Spaienza spent a huge amount of time and energy orga­niz­ing a retrieval mis­sion, his pas­sion touched many peo­ple and even the author joined the party.
Buy this book in paper or in elec­tronic format*
More Books by Mitchell Zuckoff
More Rec­om­mended World War II books on Man of la BookStore
Give­away
Give­away ends: May 15, 2013

US

/Canada Ship­ping Addresses Only

No 

PO

 Boxes

Win­ners will have 24 hours to write back with their address, oth­er­wise an alter­nate win­ner will be picked
Congratulations: sumsum085@
TLC

 Book Tour for Frozen in Time by Mitchell Zuckoff:
Wednes­day, April 24th: Book­NAround
Mon­day, April 29th: Sophis­ti­cated Dorkiness
Tues­day, April 30th: Word­smitho­nia
Wednes­day, May 1st: The Well-Read Redhead
Thurs­day, May 2nd: Lit­er­ary Feline
Mon­day, May 6th: Doing Dewey
Tues­day, May 7th: Reviews from the Heart
Wednes­day, May 8th: I Read a Book Once
Wednes­day, May 8th: Man of La Book
Thurs­dya, May 9th: Between the Covers
Mon­day, May 13th: Library of Clean Reads
Wednes­day, May 15th: Bib­lio­phil­iac
Thurs­day, May 16th: Read­ing to Know
Fri­day, May 17th: 50 Books Project
Zohar — Man of la Book
Dis­claimer: I got this book for free from TLC Book Tours.
*Ama­zon links point to an affil­i­ate account

Pro­mote the love of read­ing and share with your social net­work.   
Seguir a @https://twitter.com/ManOfLaBook
Enjoy this post? Why don't you sign up for the RSS feed