About:
Big Brother by Lionel Shriver is a fic­tional book from this acclaimed author. Ms. Shriver won the 2005 Orange Prize for her acclaimed novel We Need to Talk About Kevin.
The pub­lisher is giv­ing away one copy of this book -to enter fill out the Raf­fle­copt­ter form at the end of the post.
384 pages
Pub­lisher: Harper
Lan­guage: English

ISBN-10

: 0061458570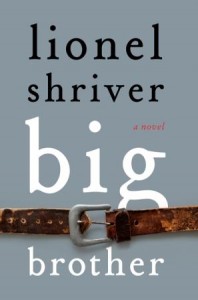 My rat­ing for Big Brother — 4
Buy this book in paper or elec­tronic format*
Thoughts:
Big Brother by Lionel Shriver (Face­book) is a book which styl­is­ti­cally reminded of So Much for That which I thought was fan­tas­tic. Ms. Shriver wrote an inter­est­ing book, with a twist at the end which I did not see coming.
I was a bit dis­ap­pointed with the book because I thought it might have more social com­men­tary. After all, So Much for That was scathing in its crit­i­cism of the health care sys­tem. I was expect­ing more of the same about the weight loss indus­try, its shys­ters, the dis­crim­i­na­tion and rea­sons for obe­sity – I got some of that but not much.
Yes, I con­cede that I should read a book with­out any prior expectations.
How­ever, despite my out­look, I still found the book inter­est­ing, fluid and a worth­while read. Pur­pose­fully Ms. Shriver con­trasts extremes. Pan­dora, the pro­tag­o­nist, is a good step-mother who is daugh­ter to a lack­ing father. Pan­dora, the suc­cess­ful busi­ness woman, is mar­ried to an ex-salesman who builds fur­ni­ture in the base­ment and is a health freak, she is also sis­ter to a man who is almost 400 lbs. and, of course, the two men in her life are polar oppo­sites in many regards but have much in com­mon (both are extrem­ists and artists).
The end­ing left me dumb­founded, I'm still not sure if I liked it or now as it turned the whole book on its head, but I have to give Ms. Shriver kudos for brav­ery. Not every author could write such an end­ing, know­ing full well it will be polar­iz­ing, and pull it off as smoothly as she did.
The book did not dis­ap­point, I was expect­ing more but I still enjoyed the author's mix of inter­est­ing char­ac­ters and social com­men­tary. The book gives the reader much to think about, the novel doesn't offer any answers but brings many ques­tions fore­front and center.
Syn­op­sis:
Pan­dora, a suc­cess­ful entre­pre­neur, loves to cook but her hus­band, Fletcher, became a health nut who man­i­cally cycles and does not let an unhealthy calo­rie pass his lips. When Pandora's older brother, a jazz pianist named Edi­son, comes to visit she is shocked to learn that he is close to 400 lbs.
Pan­dora decides to take Edi­son under her wing and help him get to his goal weight within a year. Her pet project helps her recon­nect with her brother, but affects her fam­ily and her husband.
Buy this book in paper or elec­tronic format*
Give­away
Give­away ends: June 18, 2013

US

/Canada Ship­ping Addresses Only

No 

PO

 Boxes

Win­ners will have 24 hours to write back with their address, oth­er­wise an alter­nate win­ner will be picked
Con­grat­u­la­tions: name as email
TLC

 Book Tour for Big Brother by Lionel Shriver:
Tues­day, June 4th: The Blog of Lit Wits
Thurs­day, June 6th: she treads softly
Mon­day, June 10th: Bib­lio­philia
Tues­day, June 11th: The Well-Read Redhead
Wednes­day, June 12th: Man of La Book
Thurs­day, June 13th: Book Hooked Blog
Mon­day, June 17th: Book­NAround
Wednes­day, June 19th: nomadreader
Thurs­day, June 20th:  Books in the City
Mon­day, June 24th: Tiffany's Book­shelf
Tues­day, June 25th: A Dream Within A Dream
Wednes­day, June 26th: Blog­gin' 'Bout Books
Thurs­day, June 27th: 5 Min­utes For Books
Fri­day, June 28th: The Book Chick
Mon­day, July 1st: A Reader of Fictions
Tues­day, July 2nd: Oldu­vai Reads
Zohar — Man of la Book
Dis­claimer: I got this book for free from TLC Book Tours.
*Ama­zon links point to an affil­i­ate account

Pro­mote the love of read­ing and share with your social net­work.   
Seguir a @https://twitter.com/ManOfLaBook
Enjoy this post? Why don't you sign up for the RSS feed