About:
Cap­i­tal of the World: The Race to  Host the United Nations by Char­lene Mires is a his­tory book doc­u­ment­ing the search for the UN's home. Even though the book might be short in pages, it packs a lot of infor­ma­tion in between.
The pub­lisher is giv­ing away one copy of this book -to enter fill out the Raf­fle­copt­ter form at the end of the post.
328 pages
Pub­lisher:

NYU

 Press
Lan­guage: English

ISBN-10

: 0814707947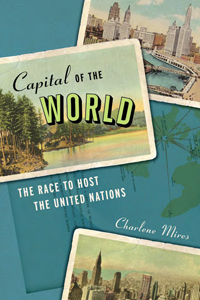 My rat­ing for Cap­i­tal of the World— 4

Buy this book in paper or elec­tronic format*
Thoughts:
Cap­i­tal of the World by Char­lene Mires is dense, but fun book. It is no won­der the UN can't make any deci­sions, if the way they decided to chose a "home" would have been any indi­ca­tion (com­mit­tees for com­mit­tees result in their resolve to make res­o­lu­tions) they might would have rethought the way they do business.
How­ever, the book is not a con­dem­na­tion of the way UN does or does not make deci­sions, but a look a the pro­mo­tional aspect of cre­at­ing the "Cap­i­tal of the World". Orig­i­nally, instead of a build­ing, every­one thought that the UN will reside in a city and many peo­ple thought that their town would sim­ply be per­fect for this notion (of course tourist dol­lars would help off­set the costs).
There were many towns vying for the honor, from the Black Hills of South Dakota to Chicago, from San Fran­cisco to Nia­gara Falls, NY. Inter­est­ingly enough, New York City abstained from the race, think­ing that they were the nat­ural and obvi­ous choice and hence didn't need to com­pete with the rest.
Some­where towards the mid­dle of the book I had to put it down for a bit, I love my his­tory books and the per­sonal sto­ries in them, but this book had so many details com­ing at me that I just needed a break. Ms. Mires was telling a good story but then it seemed to stop only to pick up a few chap­ters later.
I never real­ized that there was such a force­ful cam­paign to host the UN or that at first a whole city was planned, it is a fas­ci­nat­ing part of Amer­i­can his­tory. The com­plex way in which the UN com­mit­tee decided on a place and how they finally set­tled on NYC is a hys­ter­i­cal story for the ages.
Cap­i­tal on the World is an enjoy­able and infor­ma­tive read. It gives the reader a new per­spec­tive of Amer­ica, the coun­try that wel­comed diplo­macy and wasn't afraid to engage in dia­log after World War II.
 Buy this book in paper or elec­tronic format*
Give­away
Give­away ends: March 21, 2013

US

/Canada Ship­ping Addresses Only

No 

PO

 Boxes

Win­ners will have 24 hours to write back with their address, oth­er­wise an alter­nate win­ner will be picked
Con­grat­u­la­tions: aimala127@
TLC

 Book Tour for Cap­i­tal of the World by Char­lene Mires :
Mon­day, March 4th:  A Book­ish Affair - review and author guest post
Tues­day, March 5th:  Padre Steve
Tues­day, March 12th:  Patricia's Wis­dom
Thurs­day, March 14th:  Man of La Book
Mon­day, March 18th:  Book­NAround
Wednes­day, March 20th:  Suko's Note­book
Fri­day, March 22nd:  Sophis­ti­cated Dorkiness
Mon­day, March 25th:  Know­ing the Difference
Tues­day, March 26th:  Fifty Books Project
Wednes­day, March 27th:  The Relent­less Reader
Thurs­day, March 28th:  West Metro Mommy
Mon­day, April 1st:  The Future American
Wednes­day, April 3rd:  Lisa's Yarns
Zohar — Man of la Book
Dis­claimer: I got this book for free from TLC Book Tours.
*Ama­zon links point to an affil­i­ate account

Pro­mote the love of read­ing and share with your social net­work.   
Seguir a @https://twitter.com/ManOfLaBook
Enjoy this post? Why don't you sign up for the RSS feed