About:
The Holy or the Bro­ken: Leonard Cohen, Jeff Buck­ley, and the Unlikely Ascent of "Hal­lelu­jah"  by Alan Light is a non-fiction book which traces the strange route of a song. That song, one of the most pop­u­lar ones in the world, is "Hal­lelu­jah" by mas­ter word­smith Leonard Cohen.
The pub­lisher is giv­ing away one copy of this book -to enter fill out the Raf­fle­copt­ter form at the end of the post.
288 pages
Pub­lisher: Atria Books
Lan­guage: English

ISBN-10

: 1451657846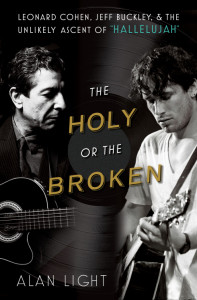 My rat­ing for The Holy or the Bro­ken — 4
Buy this book in paper or in elec­tronic format*
Thoughts:
The Holy or the Bro­ken by Alan Light is a fas­ci­nat­ing book about the cul­tural phe­nom­ena known as "Hal­lelu­jah". This is a song which I love but have never given much thought to it, the tune is sim­ple and I'm pos­i­tive that the first time I heard it; I believed that it was an old song I have heard before.
Strangely, this marker of pop-culture is fairly new. Writ­ten in the 80's, "Hal­lelu­jah" was on the only Leonard Cohen album rejected by his record com­pany. I did my own, infor­mal and rather small sur­vey in which none of the par­tic­i­pants who knew and liked the song real­ized it was writ­ten as early as the 1980's. Many, like myself, thought it was writ­ten much ear­lier. Mr. Light said it best:
Other [fans of the song] think that it's an ancient litur­gi­cal song, and are shocked when informed that it was writ­ten in the 1980s. Because it has reached so many more lis­ten­ers through inter­pre­ta­tion rather than through the author's own per­for­mances, now it mostly just seen like it's always been here.
Mr. Light attrib­utes the phe­nom­e­nal suc­cess of the song to the fact that there is really no defin­i­tive ver­sion of it. Unlike, for exam­ple, "Imag­ine" which every changed lyric can cause mas­sive back­lash, "Hal­lelu­jah" is open for inter­pre­ta­tion and artists feel free to change the order of the ver­sus when needed.
Light's research is deep and his analy­sis cov­ers the musi­cal / lyri­cal aspects of the song to the cul­tural phe­nom­ena which has swept the pop world in recent years. The author doesn't shy away from crit­i­cal analy­sis which I found to be enjoy­able and with­out any hid­den agendas.
After giv­ing the reader a back­ground on the song's ori­gin and Mr. Cohen's career, the author dives into Jeff Buck­ley. The ill-fated singer included a somber ver­sion of the song on his land­mark album "Grace" (1994). When Buckley's young life ended, a cult fol­low­ing was estab­lished around the singer and the song.
"Hal­lelu­jah" gained a mas­sive audi­ence from, iron­i­cally enough, a children's film. Dreamowrks' Shrek, the mas­sive block­buster, fea­tured the song in a key moment (sang by Rufus Wain­wright) and helped gal­va­nize it in the minds of young and old alike. From Shrek, the song's ascent was mete­oric as it became the "go to sad song" for TV sta­tions and movies, espe­cially after the 9/11 aftermath.
"Hal­lelu­jah" was over­done and overused, but enter the age of the tele­vised singing con­tests and the need for a song which can make almost every­one sound good. Again, the song was drummed into the heads of another gen­er­a­tion, albeit at 90 sec­ond clips which the con­tests allow. Another twist in this fas­ci­nat­ing saga involves Mr. Cohen's finances, or lack thereof. Hav­ing spent five years in a Cal­i­for­nia monastery, Mr. Cohen dis­cov­ered that he has been lib­er­ated from his sav­ings but those he trusted and was forced to tour again after a 15 year inter­mis­sion. Soon Mr. Cohen dis­cov­ered that his beloved song has took on it's on life and mean­ing with each indi­vid­ual listener.
The Holy or The Bro­ken is a thought­ful, illu­mi­nat­ing book writ­ten with style by a fan whose enthu­si­asm flows off the pages. The book is a plea­sure to read as the song plays in your head page after page.
I've heard there was a secret chord
That David played, and it pleased the Lord
But you don't really care for music, do you?
It goes like this
The fourth, the fifth
The minor fall, the major lift
The baf­fled king com­pos­ing Hallelujah

Your faith was strong but you needed proof
You saw her bathing on the roof
Her beauty in the moon­light over­threw you
She tied you to a kitchen chair
She broke your throne, and she cut your hair
And from your lips she drew the Hallelujah

Baby I have been here before
I know this room, I've walked this floor
I used to live alone before I knew you.
I've seen your flag on the mar­ble arch
Love is not a vic­tory march
It's a cold and it's a bro­ken Hallelujah

There was a time when you let me know
What's really going on below
But now you never show it to me, do you?
And remem­ber when I moved in you
The holy dove was mov­ing too
And every breath we drew was Hallelujah

Maybe there's a God above
But all I've ever learned from love
Was how to shoot at some­one who out­drew you
It's not a cry you can hear at night
It's not some­body who has seen the light
It's a cold and it's a bro­ken Hallelujah

You say I took the name in vain
I don't even know the name
But if I did, well, really, what's it to you?
There's a blaze of light in every word
It doesn't mat­ter which you heard
The holy or the bro­ken Hallelujah

I did my best, it wasn't much
I couldn't feel, so I tried to touch
I've told the truth, I didn't come to fool you
And even though it all went wrong
I'll stand before the Lord of Song
With noth­ing on my tongue but Hallelujah
Buy this book in paper or in elec­tronic format*
Give­away
Give­away ends: Jan­u­ary 8, 2013


US

/Canada Ship­ping Addresses Only

No 

PO

 Boxes

Win­ners will have 24 hours to write back with their address, oth­er­wise an alter­nate win­ner will be picked
Con­grat­u­la­tions: Name as Email
Zohar — Man of la Book
Dis­claimer: I got this book for free.
*Ama­zon links point to an affil­i­ate account

Pro­mote the love of read­ing and share with your social net­work.   
Seguir a @https://twitter.com/ManOfLaBook
Enjoy this post? Why don't you sign up for the RSS feed