About:
Rally 'Round the Corpse by Hy Con­rad is a fic­tional mys­tery and it seems to be the first of a series. I jumped on the oppor­tu­nity to read this book because Mr. Con­rad is the writer for the TV show Monk which is, in my opin­ion, one of the best writ­ten shows on TV.
The pub­lisher is giv­ing away one copy of this book -to enter fill out the Raf­fle­copt­ter form at the end of the post.
348 pages
Pub­lisher: Seven Realms Publishing
Lan­guage: English

ISBN-10

: 0983735042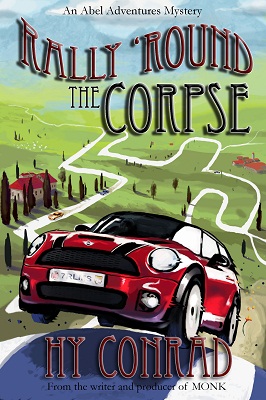 My rat­ing for Rally 'Round the Corpse — 4
Buy this book in paper or in elec­tronic format*
More Books by Hy Conrad
Thoughts:
Rally 'Round the Corpse by Hy Con­rad (web­site | Face­book) is an enjoy­able novel which is easy to read, doesn't take itself too seri­ously and tells a story with humor and energy. I read the book with the author's sense of humor in mind, as a fan of Monk I might have had an advan­tages over other read­ers since I thought that some of the lines which to oth­ers might sound over-the-top cheesy, were funny.
""Amy thought of her dou­ble bot­tom drawer as a black hole, suck­ing in any­thing and everything….it was an infor­mal stor­age sys­tem, but it filled the gap between the for­mal­ity of her files and the abyss of the wastebasket."
As you can see, if you read this line in a man­ner which is too seri­ous or high-brow you'll miss the wit and humor of the book. The cast of char­ac­ters bring peo­ple from all walks of life (some rich, some are tak­ing the vaca­tion of life­time) which makes the inter­ac­tion funny and unique. A South­ern heiress com­bined with a NYPD detec­tive who doesn't curse.
The book is not fast paced, but move at a descent speed and is a nice, light book to read over the week­end or when your life gets hec­tic. The mys­tery, at first, seems sim­ple and the author writes in a few almost too obvi­ous  scape­goats, but gets more fun as the true killer is revealed with a slight twist.
The novel is well writ­ten, the ban­ter is light­hearted and the nar­ra­tion and dia­log are both bal­anced. I'm look­ing for­ward to read more of Mr. Conrad's books and the face­tious adven­tures of Amy Able.
Syn­op­sis:
Amy Able, still on the rebound, runs a travel agency with her mother, Fanny.  The agency runs a Monte Carlo to Rome Mys­tery Road Rally to pam­pered guests who like mur­der mys­tery games. Soon after the game begun, the eccen­tric cre­ator, the only one who knows the answer, mys­te­ri­ously dies in his New York apartment.
The game becomes real when one of the guests die and Amy real­izes that the mys­tery is actu­ally based on a real-life unsolved crime.
Buy this book in paper or in elec­tronic format*
Give­away
Give­away ends: Feb­ru­ary 10, 2013

US

/Canada Ship­ping Addresses Only

No 

PO

 Boxes

Win­ners will have 24 hours to write back with their address, oth­er­wise an alter­nate win­ner will be picked
Con­grau­la­tions: cpita07@
Pre­mier Vir­tual Author Book Tours  for Rally 'Round the Corpse by Hy Conrad :
Zohar — Man of la Book
Dis­claimer: I got this book for free from Pre­mier Vir­tual Author Book Tours.
*Ama­zon links point to an affil­i­ate account

Pro­mote the love of read­ing and share with your social net­work.   
Seguir a @https://twitter.com/ManOfLaBook
Enjoy this post? Why don't you sign up for the RSS feed