About:
Flight Behavior by Bar­bara King­solver is a fic­tional book tak­ing place in Appalachia. The book is very lyri­cal and rich explor­ing the sim­ple yet com­plex life of rural Tennessee.
The pub­lisher is giv­ing away one copy of this book -to enter fill out the Raf­fle­copt­ter form at the end of the post.
448 pages
Pub­lisher: Harper
Lan­guage: English

ISBN-10

: 0062124269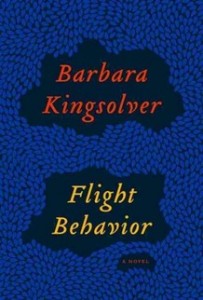 My rat­ing for Flight Behav­ior —3
Buy this book in paper or elec­tronic format*
Thoughts:
I was excited to get Flight Behav­ior by Bar­bara King­solver (web­site | Face­book), her books auto­mat­i­cally go to my "to read" list. The books I read are all unique and dif­fer­ent from one another focus­ing on var­i­ous themes and subjects.
The writing is fan­tas­tic, how­ever I did not feel any con­nec­tion to the char­ac­ters and the story is slow. The book picks up in places, just as you're ready to put it down, but then it goes on drag­ging espe­cially when it comes to the protagonist's per­sonal life ver­sus her pro­fes­sional life. Maybe because of the char­ac­ters bore­dom with her fam­ily life, which we are told prac­ti­cally from the first para­graph, the author chose to slow down the pace – for me it simply didn't work.
The theme of the book is the envi­ron­ment, while I appre­ci­ate themes and an author's take on cur­rent events and their impor­tance, I appre­ci­ate a bal­anced look much more than being shoved an agenda down my throat. Kingsolver's book The Lacuna talks about Com­mu­nism as one of its themes but shows both sides of the coin.
The book is still excel­lent from a tech­ni­cal stand­point, but it is slow and, I felt, could have been cut almost in half with­out los­ing much. For lovers of lit­er­ary fic­tion this book will be an "event", for oth­ers… not so much.
Syn­op­sis:
A farmer's wife walk­ing back from her lover's house dis­cov­ers a field full of but­ter­flies. Not want­ing her hus­band to know where she's been, Del­laro­bia Turn­bow acci­den­tally con­vinces her hus­band and reli­gious mother-in-law that she had a "vision".
When a lep­i­dopterol­o­gist comes to study the crea­tures, Del­laro­bia gets a cul­ture shock as well as a new per­spec­tive on life.
Buy this book in paper or elec­tronic format*
More Books by Bar­bara Kingsolver
Give­away
Give­away ends: Decem­ber 19, 2012

US

/Canada Ship­ping Addresses Only

No 

PO

 Boxes

Win­ners will have 24 hours to write back with their address, oth­er­wise an alter­nate win­ner will be picked
Con­grat­u­la­tions: zypadeedodah@
TLC

 Book Tour for Flight Behav­iorby Bar­bara Kingsolver :
Tues­day, Novem­ber 6th: A Reader of Fictions
Wednes­day, Novem­ber 7th: Dolce Bellezza
Thurs­day, Novem­ber 8th: The Blog of Lit Wits
Mon­day, Novem­ber 12th: Cari­bous­mom
Tues­day, Novem­ber 13th: Book­ish Habits
Wednes­day, Novem­ber 14th: 50 Books Project
Thurs­day, Novem­ber 15th: Unabridged Chick
Mon­day, Novem­ber 26th: Book Snob
Tues­day, Novem­ber 27th: What She Read … – joint review
Wednes­day, Novem­ber 28th: Becca's Byline
Thurs­day, Novem­ber 29th: A Patch­work of Books
Wednes­day, Decem­ber 5th: No More Grumpy Bookseller
Thurs­day, Decem­ber 6th: The 3 R's: Read­ing, 'Rit­ing, and Randomness
Tues­day, Decem­ber 11th:>Man of La Book
Wednes­day, Decem­ber 12th: Tina's Books Reviews
Thurs­day, Decem­ber 13th: Sea­side Book Corner
Mon­day, Decem­ber 17th: 50 Books Project
 Zohar — Man of la Book 

Dis­claimer:
 I got this book for free from 
TLC

 Book Tours
*Ama­zon links point to an affil­i­ate account

Pro­mote the love of read­ing and share with your social net­work.   
Seguir a @https://twitter.com/ManOfLaBook
Enjoy this post? Why don't you sign up for the RSS feed