About:
The Inven­tion of Hugo Cabret by Brian Selznick is a children's novel tak­ing place on the turn of the cen­tury in Paris, France. We took this book out for my daugh­ter (7) to read, but I stayed up half a night read­ing it – and fin­ished the next morning.
533 pages
Pub­lisher: Scholas­tic Press; First Edi­tion edi­tion (Jan­u­ary 30, 2007)
Lan­guage: English

ISBN-10

: 0439813786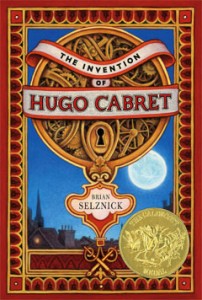 My rat­ing for The Inven­tion of Hugo Cabret — 5
Thoughts:
The Inven­tion of Hugo Cabret (Book Web­site) by Brian Selznick is a very unique book. Not quite a book, not quite a graphic novel, but an amal­ga­ma­tion of the two where a few pages of text are fol­lowed by sev­eral pages of pic­tures which move the story for­ward instead of illus­trat­ing what one just read about.
While this book is tar­geted towards the young, any­one young at heart would enjoy it and espe­cially movie buffs as Georges Méliès plays a sig­nif­i­cant part in this tale. Part folk tale, part fan­tasy, part his­tory book with mag­nif­i­cent draw­ings and pho­tographs of old films this book defies cat­e­go­riza­tion. Add a boy, a girl, automa­ton, toys, a key, clocks, train sta­tion and a one eyed man and what you get is a fan­tas­tic fable which is sim­ple yet com­plex and some­what bizarre.
My most favorite aspect of the book as the homage to silent films, not only using con­text, but the rich illus­tra­tions all black and white which reminds one more of movie stills than graphic novels.
While the book is rel­a­tively long (it comes in at a whop­ping 533 pages) it is a short read. The text pages are short and easy to read and most of the book is the won­der­ful pic­tures men­tioned above – I read the whole book in a day. Even though I bor­rowed this book from the library, I am seri­ously think­ing about buy­ing a copy of this fab­u­lous work of art.
So tell me, which book of your chil­dren do you like the best?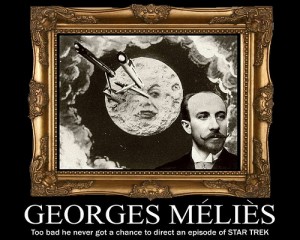 Syn­op­sis:
Twelve year old Hugo shoul­ders a lot of respon­si­bil­ity for his age. His par­ents are dead and his care­taker is his drunk­ard uncle, ten­der to the train station's clocks, which one day sim­ply disappears.
Son of a watch­maker, Hugo who loves to tin­ker with mechan­i­cal toys takes it upon him­self to main­tain the clocks while hid­ing in the hid­den world of the train sta­tion. One day he finds an automa­ton, a mechan­i­cal man, which was cher­ished by his late father.  Hugo restores the toy using his father's note­book as a ref­er­ence, he gets his parts by steal­ing them from the old man who owns a toy kiosk in the station.
Turns out that old man is actu­ally a cin­e­matic giant who made Hugo's father favorite film – Georges Méliès.
And that is just the start of the story.
Zohar — Man of la Book
Dis­claimer: I bor­rowed this book from the local library.
BOOK BLOGGERS — Have you read The Inven­tion of Hugo Cabret? If so link up your review below:

Pro­mote the love of read­ing and share with your social net­work.   
Seguir a @https://twitter.com/ManOfLaBook
Enjoy this post? Why don't you sign up for the RSS feed