Today I'm start­ing a new fea­ture called "Thoughts from the Ran­cor Pit" in which Andrew and David from the fab­u­lous blog "Ran­cors Love to Read" will review books tak­ing place in the Star Wars uni­verse. I have been in touch with Andrew for a few weeks about this new fea­ture which I think will enhance Man of la Book by giv­ing it another dimen­sion (pun intended).
While I cer­tainly appre­ci­ate the Star Wars uni­verse, sci­ence fic­tion books aren't really up my alley at this point in my life. I was glad to find Ran­cors Love to Read and ecsta­tic when we hashed out an infor­mal agree­ment for me to repub­lish their reviews. Take a look at their reviews and let me know ho you like this new fea­ture.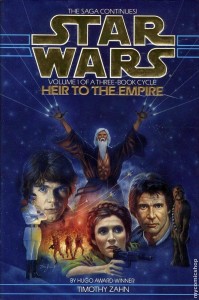 Buy this Star Wars Book in paper or elec­tronic copy
Andrew:
Orig­i­nally pub­lished at http://www.rancorslovetoread.com/2008/12/andrews-review-of-heir-to-empire.html
5/5 Ran­cors– The cor­ner­stone of the mod­ern Star Wars Expanded Uni­verse, Tim­o­thy Zahn's Heir to the Empire was pub­lished in 1991 in an envi­ron­ment where Star Wars was con­sid­ered a dusty relic of the 70s and 80s, except to some die-hard enthu­si­asts. At least, that was the per­cep­tion going around. The real­ity was there was enough latent inter­est in the fran­chise to send this book soar­ing up the New York Times best­seller lists. I remem­ber at the time believ­ing there would never be any more Star Wars films and that this tril­ogy would act as a sur­ro­gate Episodes VII, VIII, and IX. Well, here we are eigh­teen years later and we've got­ten three (soon to be four with the ani­mated Clone Wars) more films, but still no sign of the infa­mous sequel tril­ogy. So, for the time being, per­haps the Thrawn Tril­ogy can be con­sid­ered the clos­est thing we've got.
In light of that, the great news is this is one of the best books of the Expanded Uni­verse and also one of its most cin­e­matic. Zahn moved the time­line for­ward to five years after Return of the Jedi, and in doing so per­mit­ted the main char­ac­ters to develop beyond what we saw in the films. Han and Leia are mar­ried with twin chil­dren on the way, and Luke is lay­ing the ground­work for the future course of the Jedi. All the usual side­kicks are back and true to their film selves.
he key, though, is the new vil­lain Zahn intro­duces, Grand Admi­ral Thrawn. Thrawn is a char­ac­ter of chill­ing intel­li­gence, method­i­cally plot­ting and exe­cut­ing a return to power for the scat­tered rem­nants of the Empire. He is ably assisted by Cap­tain Pel­laeon and a well-trained Impe­r­ial force of war­ships and troop­ers. Thrawn's ear­li­est chrono­log­i­cal appear­ance in the Expanded Uni­verse was in the excel­lent novel Out­bound Flight, set decades ear­lier. Heir to the Empiredoes not reveal much of the inter­ven­ing decades in his life but read­ers of the other book will imme­di­ately rec­og­nize the por­trayal and devel­op­ment of Thrawn here.
Another sig­nif­i­cant addi­tion to the Star Wars galaxy in this book is Mara Jade, for­mer Emperor's Hand and Force user turned smug­gler. Mara is a strong char­ac­ter who tends to dom­i­nate any scene she's in, but she makes a great foil to Luke Sky­walker. They are con­nected by sur­pris­ing events from the past, cast­ing a new light on the bat­tle at the Pit of Carkoon in Return of the Jedi. Mara's adver­sar­ial rela­tion­ship to Luke cre­ates many oppor­tu­ni­ties for growth in both her and Luke and Zahn han­dles this well.
The best thing about Thrawn is he brings a true sense of dan­ger that was lack­ing in the Empire's lead­ers since the Bat­tle of Endor. Ysanne Isard was smart and mali­cious but lacked a sweep­ing vision. War­lord Zsinj was some­what clever but also a bit silly and trite. The New Repub­lic has faced many other oppo­nents but not any with the poten­tial for com­plete ruin that Thrawn brings. The addi­tion of the rogue Jedi Joruus C'baoth to Thrawn's forces com­pletes build­ing the most cred­i­ble threat the fledg­ing gov­ern­ment has faced in the Expanded Universe.
The sto­ry­line itself works well both as a largely stand­alone episode, not dis­sim­i­lar to A New Hope, but also in plant­ing the seeds for the two sequels. The sto­ry­line itself is well-crafted and mar­ries per­fectly with Zahn's strong char­ac­ter­i­za­tions. This book is essen­tial read­ing for any fan want­ing to enter the Star Wars Expanded Uni­verse but also con­tin­ues to be a reward­ing read for fans sat­u­rated in the tales of that galaxy far, far away.
Buy this Star Wars Book in paper or elec­tronic copy
David:
Orig­i­nally pub­lished at http://www.rancorslovetoread.com/2009/01/davids-review-of-heir-to-empire.html

5/5 Ran­cors — Heir to the Empire by Tim­o­thy Zahn is the first book in a series that has come to be referred to as the Thrawn Tril­ogy. That is as it should be because Grand Admi­ral Thrawn is one of the best vil­lains in the entire Expanded Uni­verse and this is one of the best books.
Our time­line is approx­i­mately five years after Return of the Jedi, so our favorite char­ac­ters are still around, just five years down the road. Han and Leia have twins on the way. Luke is try­ing to estab­lish a direc­tion for the Jedi move­ment. Other favorites also have roles to play, but Thrawn steals the show. You can't help but be impressed by him even though he is one of the bad guys. His intel­li­gence is over­whelm­ing. He always seems to be at least one step ahead of every­body else. Cap­tain Pel­laeon, the com­man­der of Thrawn's flag­ship, is con­stantly try­ing to under­stand the ratio­nale behind the orders he receives. Thrawn is the last of the Emperor's war­lords, and he has taken com­mand of the remains of the Impe­r­ial fleet. His goal, in short, is to do what the Emperor failed to do, i.e., destroy the Repub­lic. Mara Jade also is an impor­tant pres­ence in Heir to the Empire. She is the for­mer Emperor's Hand and a Force user, so her skills are con­sid­er­able. One other char­ac­ter who has sided with Thrawn is Joruus C'baoth, a strange Jedi with a prickly per­son­al­ity and sig­nif­i­cant pow­ers in the Force.
This book was first pub­lished in 1991 and was like a breath of fresh air for Star Wars fans who were miss­ing the films. They could pull for their heroes again. Heir to the Empire is an excel­lent read on its own, but it also does a fine job of lead­ing into the next two books in the tril­ogy. This is a must read for any Star wars fan.
Buy this Star Wars Book in paper or elec­tronic copy
BOOK BLOGGERS — Have you read Heir to the Empire? If so link up your review below:

Pro­mote the love of read­ing and share with your social net­work.   
Seguir a @https://twitter.com/ManOfLaBook
Enjoy this post? Why don't you sign up for the RSS feed