About:
Heads in Beds: A Reck­less Mem­oir of Hotels, Hus­tles, and So-Called Hos­pi­tal­ity by Jacob Tom­sky tells about the author's decades of expe­ri­ence within the hos­pi­tal­ity indus­try. Mr. Tom­sky has started work­ing in hotels as a valet, got pro­moted to man­age­ment and worked in many other roles within the industry.
The pub­lisher is giv­ing away one copy to two (2) win­ners of this book— use the Raf­fle­copter form at the end of the post to enter.
256 pages
Pub­lisher: Dou­ble­day (Novem­ber 20, 2012)
Lan­guage: English

ISBN-10

: 0385535635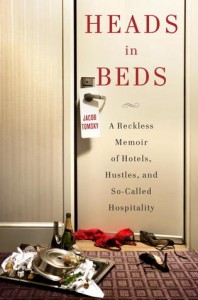 My rat­ing for Heads in Beds — 4
Buy this book in paper or elec­tronic format
Thoughts:
Heads in Beds: A Reck­less Mem­oir of Hotels, Hus­tles, and So-Called Hos­pi­tal­ity by Jacob Tom­sky (web­site | @benthebellman)  is a per­fect book for the trav­eler, a look into what peo­ple in all lev­els in hotels go through to make your stay smooth and how you can make it smoother. The book is a quick read, funny and some­times offen­sive (in a good way).
Mr. Tom­sky started out his career inNew Orleans, but is now liv­ing for a long time inNew York City. The writ­ing reflects East Coast humor, jest­ing which in other parts of the coun­try is deemed offen­sive, rude and would likely get you beaten up or killed in some parts.
In my trav­els, I have tipped room ser­vice and bell hops before but never thought to do so with desk clerks. Now I know that I need to shall out a few bucks to make my stay more enjoyable.
How­ever, unlike other indus­tries where tips are given, in the hos­pi­tal­ity indus­try tips go a much longer way. The author claims that when you give a tip to the desk clerk (it's a bribe, come on who are we kid­ding?) the desk clerk will do a lot to make your stay bet­ter, from upgrades to free "stuff". Some­thing I will per­son­ally have to try next time I stay anywhere.
The dif­fer­ence between a bribe given to a front desk clerk at a hotel and your friendly neigh­bor­hood politi­cian is that the bribe you give to the desk clerk actu­ally gets bet­ter results. The desk clerk will work and hus­tle for you to earn the money he/she was given and you will enjoy the results (or so the author claims — I'll try it myself at my next hotel stay.
The book could use a bit of edit­ing, not much but some of the sen­tences are too long and sev­eral of the chap­ters skip back and fourth between sub­jects. I read an advanced reader copy (ARC), so please take this with a grain of salt since I don't know if the final book will be the one I read.
The author's frus­tra­tion with his cho­sen pro­fes­sion, or a pro­fes­sion which chose him (the case for most work­ing Amer­i­cans if it's any con­so­la­tion for Tom­sky), comes out with wit and intel­li­gence while spit­ting bolts of fire – a remark­able achieve­ment in my opinion.
At the back of the book Mr. Tom­sky included two very funny appen­dices "Things a Guest Should Never Do" and "Things Every Guest Must Know" which are an excel­lent way to close the book.
So tell me, what's the best or worst hotel expe­ri­ence you've head?
Buy this book in paper or elec­tronic format
Give­away
Give­away ends: August 25, 2012

US

/Canada Ship­ping Addresses Only

No 

PO

 Boxes

Win­ners will have 24 hours to write back with their address, oth­er­wise an alter­nate win­ner will be picked
Con­grat­u­la­tions: carlscott@, nicnac63@, singitm@
Zohar — Man of la Book
Dis­claimer: I got this book for free.
BOOK BLOGGERS — Have you read Heads in Beds? If so link up your review below:

Pro­mote the love of read­ing and share with your social net­work.   
Seguir a @https://twitter.com/ManOfLaBook
Enjoy this post? Why don't you sign up for the RSS feed