About:
Black Fri­days by Michael Sears is a novel which cap­i­tal­izes on the author's Wall Street expe­ri­ence pro­vid­ing inter­est­ing insights on finan­cials capers. This is a first book by Mr. Sears and seems to be the first of a series.
352 pages
Pub­lisher: Put­nam Adult
Lan­guage: English

ISBN-10

: 0399158669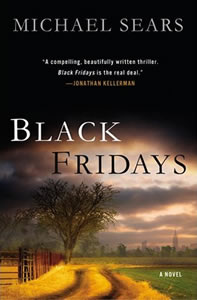 My rat­ing for Black Fri­days —

4
Thoughts:
Black Fri­days by Michael Sears (web­site | Face­book) is a novel about finan­cial schemes, mur­der and greed but mostly about the mean­ing of father­hood. While I couldn't begin to under­stand the com­plex­ity of the scam which Jason Stafford, the pro­tag­o­nist, pulled over his Wall Street bosses, I liked the other aspects of this book.
Jason has a son which he is fight­ing for. After spend­ing a cou­ple of years in jail Jason cer­tainly wasn't up for the "Father of the Year" award, but nei­ther was his white trash ex-wife, her fix­a­tion with abu­sive men and her way of deal­ing with autism (lock­ing the kid in a room at his grandmother's house so he won't hurt himself).
I enjoyed the finan­cial aspect of the book and the moti­va­tion of the father to come back into an indus­try which deplores him (he got caught and took a few peo­ple with him on the way down), but I thought that the touch­ing rela­tion­ship between father and son gave the book unex­pected strength which turned the novel from a run of the mill book into a mem­o­rable one.
I also liked the way Jason was drawn; he is by no means a good guy and cer­tainly not a moral char­ac­ter. After all, Jason doesn't hes­i­tate steal­ing a few hun­dred thou­sand dol­lars here and there and is try­ing to jus­tify it through­out the book. The pro­tag­o­nist has no remorse, only that he got caught and missed two years with his son.
Black Fri­days is an enjoy­able thriller, it is fast paced and inter­est­ing. Jason might be the only well devel­oped char­ac­ter in the book, but the novel still stands on its own strength. A won­der­ful debut for Mr. Sears and I'm look­ing for­ward to more books about Jason and his son.
 Syn­op­sis:
Jason Stafford has spent the past two years in jail after being caught run­ning a Wall Street scam. Now the unem­ploy­able trader is try­ing to put his life back together.
A Wall Street firm has hired him to inves­ti­gate some issues which a junior trader might have had before he acci­den­tally died – but Jason might take on more than he can chew and might risk his life in the process. His only moti­va­tion to con­tinue is his only son "The Kid" who is autis­tic and needs a lot of atten­tion which money can help bring about.
Zohar — Man of la Book
Dis­claimer: I got this book for free.
BOOK BLOGGERS — Have you read Black Fri­days? If so link up your review below:

Pro­mote the love of read­ing and share with your social net­work.   
Seguir a @https://twitter.com/ManOfLaBook
Enjoy this post? Why don't you sign up for the RSS feed