About:
Bren­ner and God by Wolf Haas is a detec­tive novel tak­ing place in Ger­many.Mr. Haas, a pop­u­lar author in Ger­many, has recently had his first trans­lated work published.
224 pages
Pub­lisher: Melville Inter­na­tional Crime;
Lan­guage: English

ISBN-10

: 1612191134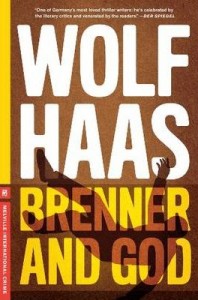 My rat­ing for Bren­ner and God — 3
Buy this book in paper or elec­tronic format
Thoughts:
Bren­ner and God by Wolf Haas is an enter­tain­ing, yet wildly strange novel. The book is nar­rated by an unnamed per­son who has a wicked, dark and wry sense of humor – much like my own which is why I thought I'd enjoy the book more.
The style of the novel is unwieldy and I never got used to it. I don't know whether the style is that way because it's meant to be that way or sim­ply lost in trans­la­tion – mean­ing the trans­la­tion is fine, but the style sim­ply doesn't con­form to the Eng­lish reader. The nar­ra­tor says things like "lis­ten care­fully", "take note" etc. and reminds him­self things retrospectively.
The main char­ac­ter of Bren­ner walks around the novel, basi­cally it seems just to allow the nar­ra­tor to make funny remarks. Those remarks are funny, I'll grant that, but with­out the narrator's obser­va­tions, points and jokes, the novel is basi­cally 4–5 chap­ters long.
"As a mat­ter of prin­ci­ple, Frau Doc­tor Kress­dorf had great sym­pa­thy for the men who came in for vasec­tomies. Because men tend to leave every­thing else up to women, the vasec­tomy can­di­dates were prac­ti­cally minor saints to her."
I enjoyed this novel in parts, it is dark and with a sin­is­ter story and sense of humor. How­ever, the shtick of the all know­ing, opin­ion­ated nar­ra­tor didn't work for me through­out.  I did love the sar­cas­tic humor but then again, I am a known wiseass.
So tell me, do you enjoy books with a dark sense of humor?
Syn­op­sis:
Simon Bren­ner retires from his stress­ful job as a police offi­cer to take the job of a chauf­fer. Brenner's main duty is to drive a two year old girl between her mother, an abor­tion doc­tor in Vienna, and her father, a con­struc­tion mil­lion­aire in Berlin.
One day, stop­ping to fill up the gas tank, Bren­ner finds the that the lit­tle tike dis­ap­peared. With the mother's occu­pa­tion and the father's long list of ene­mies, Bren­ner (who is of course one of the prime sus­pects) does not have short­age of leads or dead bod­ies stand­ing in his way.
Buy this book in paper or elec­tronic format
Zohar — Man of la Book
Dis­claimer: I got this book for free
BOOK BLOGGERS — Have you read Bren­ner and God? If so link up your review below:

Pro­mote the love of read­ing and share with your social net­work.   
Seguir a @https://twitter.com/ManOfLaBook
Enjoy this post? Why don't you sign up for the RSS feed