About:
The Seven Won­ders: A Novel of the Ancient World by Steven Say­lor is a col­lec­tion of short sto­ries star­ring the youth­ful, wise crack­ing Gor­dianus.  Cur­rently there is a pop­u­lar series of mys­ter­ies writ­ten by Mr. Say­lor and star­ring an older Gordianus.
The pub­lisher is giv­ing away one copy to 2 (two) win­ners – enter using the Raf­fle­copter form at the end of this post.
336 pages
Pub­lisher: Mino­taur Books; First Edi­tion edi­tion (June 5, 2012)
Lan­guage: English

ISBN-10

: 0312359845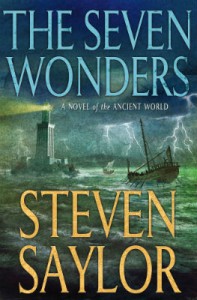 My rat­ing for The Seven Won­ders — 4
Buy this book in paper or elec­tronic format
Thoughts:
I enjoyed Saylor's (web­site | Face­book),pre­vi­ous books (although admit­tedly I didn't read many) and was thrilled to be offered to read The Seven Won­ders. The short sto­ries are a great intro­duc­tion to Gor­dianus and actu­ally have a run­ning theme through­out them besides a travelogue.
I am a true believer that travel opens the mind, it lets you see for your­self that there are other ways to live your life besides what you believe is the right way. Actu­ally, trav­el­ing shows you that there is no right way, a dirt farmer in mid­dle Amer­ica might just be as happy and con­tent with his life as a mer­chant in Venice. Expe­ri­enc­ing other cul­tures also, I believe, defuses racism and forms tol­er­ance and accep­tance into one's mind. In many coun­tries, trav­el­ing after high school or col­lege or mil­i­tary ser­vice is a rite of pas­sage and I think those peo­ple are all the bet­ter for it.
Cur­rent fans of Gor­da­nius will enjoy this book because the real story is the evo­lu­tion of a loved char­ac­ter. Part mys­tery, a travel jour­nal, a sex­ual awak­ing tale (as a healthy 18 year old, Gor­da­nius dis­cov­ers the plea­sures of the body at each Won­der, if mem­ory serves me cor­rectly) and part a com­ing of age story. Gor­da­nius becomes the detec­tive that he is in the later nov­els, party by sharp­en­ing his pow­ers of deduc­tion while being a stranger in a strange land, grap­pling with unknown cul­tures and lan­guages.  A nice touch, in my opin­ion, was Gor­da­nius' real­iza­tion that Rome just might not be the cen­ter of the world and/or uni­verse. A truth he has heard and believed since birth.
The research in this book, as in other books by Mr. Say­lor is incred­i­ble. The descrip­tions of the Won­ders, cities and alley­ways are descrip­tive and vivid. The loca­tions come alive as if they were another char­ac­ter in the book and, even more impres­sive, with­out stop­ping the story in its tracks.
The book is actu­ally a pre­quel to the author's mys­tery series star­ring the pro­tag­o­nist.  How­ever, it is not nec­es­sary to read the pre­vi­ous, or any, books in the series to enjoy this one. Gor­dianus him­self is the nar­ra­tor of all the short sto­ries in the book, he is reflect­ing on his youth in a way which many of us do. Some­times you look at what you done, slap your head and pro­claim: "what the hell was I think­ing"; yet some­times you look back and enjoy the ride.
When I first got this book I was fairly excited, read­ing some Mr. Saylor's pre­vi­ous books I knew what I was in for, how­ever my excite­ment dete­ri­o­rated when I dis­cov­ered that this was a col­lec­tion of short sto­ries.  To my delight, I truly enjoyed The Seven Won­ders and believe that it is a won­der­ful intro­duc­tion to Gor­dianus for new, as well as cur­rent, fans.
So tell me, do you like prequels?
Related Reads:
Roma by Steven Saylor
Syn­op­sis:
As the name of the book might sug­gests, the reader fol­lows Gor­dianus along with his com­pan­ion and teacher, the world famous Antipa­ter. This famous Greek poet faked his own death to travel in pri­vacy with his stu­dent to see the Seven Won­ders of the ancient world. The cou­ple solves a mys­tery at each site, which at the end, every­thing ties in together to lay out before the reader a grander story.
Buy this book in paper or elec­tronic format
Give­away
Give­away ends: July 23, 2012 (acci­den­tally, one of the most holi­est days of the year)


US

/Canada Ship­ping Addresses Only

No 

PO

 Boxes

Win­ners will have 24 hours to write back with their address, oth­er­wise an alter­nate win­ner will be picked
Con­grat­u­la­tions:jtretin@,[Name as email]@
Zohar — Man of la Book Dis­claimer:I got this book for free.

Pro­mote the love of read­ing and share with your social net­work.   
Seguir a @https://twitter.com/ManOfLaBook
Enjoy this post? Why don't you sign up for the RSS feed