About:
Pega­sus Falling : Cypress Branches tril­ogy (Vol­ume 1) by William E. Thomas is the semi-autobiographical novel of the author who served as a British para­trooper in World War II. Mr. Thomas' book was self pub­lished by his grand­son, Mike Har­ris who is a copy-editor and proof­reader, repub­lished the book in three parts.
This is part one which has recently been selected as a semi-finalist in the Kin­dle Book Review's Best Indie Books of 2012.
The pub­lisher is giv­ing away one eCopy to 5 (five) win­ners – enter using the Raf­fle­copter form at the end of this post.
348 pages
Pub­lisher: Acute Angle books (March 26, 2012)
Lan­guage: English

ISBN-10

: 0956229913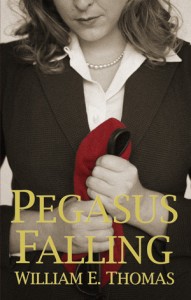 My rat­ing for Pega­sus Falling —

5
Thoughts:
Pega­sus Falling : Cypress Branches tril­ogy (Vol­ume 1) by William E. Thomas (web­site | Face­book | Twit­ter) was an amaz­ing and emo­tional jour­ney through­out World War II and the after­math. The obser­va­tions made by Mr. Thomas are incred­i­bly accu­rate and stand the test of time, he makes intel­li­gent, thought­ful and remark­ably astute obser­va­tions about the way the super­pow­ers have divided the spoils amongst them, the orderly tran­si­tion of world power from Eng­land to Amer­ica and the redraw­ing of the world's borders.
No coun­try or peo­ple come out ahead in Mr. Thomas' eyes. Each one have their virtues and their faults. Each one is con­niv­ing out of cir­cum­stance and polit­i­cal phi­los­o­phy while being played around by other pow­ers. The Jew­ish orga­ni­za­tions are play­ers as much as they are being secretly manip­u­lated, so are the Arabs and the Euro­pean coun­tries, win­ners and losers.
This is an intrigu­ing story, grip­ping from the first page to the last and full of sor­row, hap­pi­ness, kind­ness and heart­break. The book shows the cru­elty as human­ity as they make other human beings suf­fer but in sharp con­trast to the resilience of the race.
As any sol­dier knows, the war does not end on the bat­tle­field, and Mr. Thomas, a vet­eran, clearly ham­mers that point home in his nar­ra­tive. Sammy Parker, the pro­tag­o­nist, suf­fers through­out his life from events which hap­pened to him dur­ing the war and keeps bat­tling his inner demons and going over hur­dles which never seem to stop being tossed at him.
Maybe because of my his­tory and/or my upbring­ing, this book really touched me. I grew up near the area where much of the story took place (even though I was not famil­iar with the spe­cific places) and my mil­i­tary back­ground. It is obvi­ous that this is a labor of love for Mr. Thomas, whose expe­ri­ences jump out of the page, and his fam­ily is very proud of his efforts.
The char­ac­ter­i­za­tion is fan­tas­tic, the peo­ple in the novel feel real, warm and flawed. This is an extra­or­di­nary vivid novel which com­bines love and his­tory while not shy­ing away from politics.
I am look­ing for­ward to read­ing the other parts of the trilogy.
Related Reads:
Auschwitz by Dr. Mik­lós Nyis­zli
Dis­placed Per­sons by Ghita Schwarz
Gated Grief by Leila Levin­son
Shad­ows Walk­ing by Dou­glas R. Skopp
The Pol­ski Affair by Leon H. Gildin
Syn­op­sis:
Cap­tain Stan­ley Adam Mal­com Parker, known as Sammy (S.A.M. Mal­com), is a British cap­tain in the Para­chute Reg­i­ment dur­ing World War II. Dur­ing oper­a­tion Mar­ket he was cap­tured but after attack­ing an SS offi­cer, was sent to spend the rest of the war in a con­cen­tra­tion camp. The same impul­sive­ness which has got­ten him to the camp also helped him to survive.
Naomi is a beau­ti­ful Jew­ess who has lost all her fam­ily to the gas cham­bers and is now used as a con­cu­bine of the Nazi com­man­der. Sammy and Naomi help keep each other alive dur­ing the hor­rors in the camp, but are sep­a­rated once they are lib­er­ated. Sammy, whose anger knows no bounds, gets intro­duced to the priv­i­leged diplo­mat Les­ley Anne "Car­rie" Car­ring­ton who is a beau­ti­ful, no non­sense lady. Car­rie and Sammy find their way into Pales­tine, serv­ing their coun­try while try­ing work their way out of the hor­rors they have witnessed.
Give­away
Give­away ends: July 18, 2012

US

/Canada Ship­ping Addresses Only

No 

PO

 Boxes

Win­ners will have 24 hours to write back with their address, oth­er­wise an alter­nate win­ner will be picked
Con­grat­u­la­tions: darlenesbooknook@, lomazowr@ and 3 oth­ers who used their full name as their email
Zohar — Man of la Book Dis­claimer: I got this book for free. BOOK BLOGGERS — Have you read Pega­sus Falling? If so link up your review below:

Pro­mote the love of read­ing and share with your social net­work.   
Seguir a @https://twitter.com/ManOfLaBook
Enjoy this post? Why don't you sign up for the RSS feed