South­ern writer Eudora Welty was born today, 13 April 1909 (died 23 July 2001) in Jack­son, Mississippi.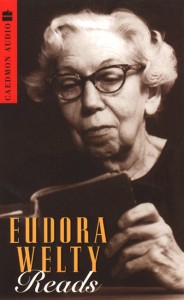 1 ) Eudora Welty was the daugh­ter of an insur­ance com­pany owner and had a shel­tered child­hood and a led a shel­tered life.
2 ) Many of Ms. Welty's sto­ries fea­ture strong women, how­ever fem­i­nist schol­ars shunned them due to neg­a­tive com­ments she made in the 1970s about the fem­i­nist movement.
3 ) Eudora Welty was the first woman to study at Peter­house Col­lege in Cambridge.
4 ) Ms. Welty was an accom­plished pho­tog­ra­pher who took pic­tures for three years in the south dur­ing depres­sion in the 1930s.
5 ) When she returned home from col­lege (Colum­bia Uni­ver­sity School of Busi­ness), Ms. Welty worked as a radio writer and news­pa­per soci­ety writer.
6 ) The Death of a Trav­el­ing Sales­man was Eudora Welty's first pub­lished short story (1936). Her work appeared in the South­ern Review for the next two years.
7 ) A Cur­tain of Green, a book of short sto­ries was pub­lished in 1941.
8 ) Ms. Welty was awarded the O. Henry Award for best short fic­tion in 1942 and 1943. The novel The Optimist's Daugh­ter was awarded the 1972 Pulitzer Prize.
9 ) Ms. Welty was the first liv­ing author to have her works pub­lished by the Library of Amer­ica.
10) Eudora Welty's house in Jack­son, Mis­sis­sippi is a National His­toric Land­mark and is a museum which is open to the public.
Zohar — Man of la Book
Related arti­cles
Enjoy this post? Why don't you sign up for the RSS feed