About:
God's Mid­dle Fin­ger: Into the Law­less heart of the Sierra Madre by Richard Grant is a non-fiction book about the author's "tour" of Mexico's Sierra Madre region. Mr. Grant is a British jour­nal­ist who came to the other side of the pond in search of strange­ness and adven­ture – I think he found both.
288 pages
Pub­lisher: Free Press
Lan­guage: English

ISBN-10

: 1416534407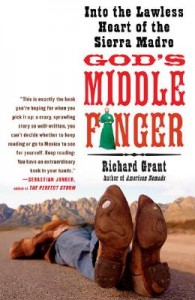 My rat­ing for God's Mid­dle Fin­ger — 4
Buy this book in paper or elec­tronic format
Thoughts:
God's Mid­dle Fin­ger: Into the Law­less heart of the Sierra Madre by Richard Grant (web­site | Face­book) is a fast paced, sprawl­ing adven­ture in a strange world which is closer then you think, and some­times sim­ply too close for com­fort. While the book might be con­sid­ered to be in the travel genre it is a glimpse into a law­less part of Mexico.
The often mis-quoted line from Trea­sure of the Sierra Madre said by Gold Hat (played by Alfonso Bedoya) "Badges? We don't need no stinkin' badges" comes to mind and, of course, makes an appear­ance in the book. The coun­try is law­less and any type of badge or uni­form carry lit­tle weight – how­ever, an intro­duc­tion by a local (which means he vouches for you with his life) does.
For the record, the line is: "Badges, to god-damned hell with badges! We have no badges. In fact, we don't need badges. I don't have to show you any stink­ing badges, you god-damned cabrón and chinga tu madre! Come out from that shit-hole of yours. I have to speak to you."
The area has his­tor­i­cally been a home to out­laws, cow­boys, rene­gades, bands of Apache and her­mits. These days there are still many out­casts, Tarahu­mara Indi­ans, Mor­mons, nar­cos, pot and opium farm­ers inhibit this for­saken land.
Through­out the book, Mr. Grant warns the reader time after time not to fol­low his foot­steps. I'd lis­ten to his advice as the pro­logue we meet the author as he tries to run away from coked out, drunken nar­cos who are hunt­ing him for sport. The pop­u­la­tion of the area is a mix of tough, vio­lent folks where the laws of the land seem not to have any affect. While guns are ille­gal in Mex­ico, every­one has one, mur­der is com­mon, drunk­en­ness, rape and revenge killing are all part of life. It is not uncom­mon for the women to be forced to marry their rapist if they get pregnant.
Even though the book deals with seri­ous con­se­quences of such a life, and a very dan­ger­ous trip the author makes – it is still funny and infor­ma­tive. The Tarahu­mara Indi­ans, long dis­tance run­ners who made a mock­ery out of the ultra marathon and refused to run a reg­u­lar marathon because such short dis­tances are only for women – caught my atten­tion and had me laugh­ing out loud.
Syn­op­sis:
Hav­ing had an "unfor­tu­nate fas­ci­na­tion" with the Sierra Madre, Richard Grant decided to go the law­less fron­tier. Even though he was con­stantly told he was going to die, Mr. Grant ignored those warn­ings until this warn­ing almost came true.
Marked by almost reck­less dis­re­gard to his own well being, the book is filled with won­der­ful detail and dark humor which brings for­ward this uncharted country.
Buy this book in paper or elec­tronic format
Zohar — Man of la Book
Dis­claimer: I bor­rowed this book from my sister.
BOOK BLOGGERS — Have you read God's Mid­dle Fin­ger? If so link up your review below:

Pro­mote the love of read­ing and share with your social net­work.   
Seguir a @https://twitter.com/ManOfLaBook
Enjoy this post? Why don't you sign up for the RSS feed