About:
State of Won­der by Ann Patch­ett is a fic­tional book tak­ing place, mostly, in Brazil's Ama­zonregion. I have been in that region and ever since loved read­ing about it, reliv­ing my adven­tures and bang­ing my head against the wall wish­ing to go back again and look at things with more informed eyes.
The pub­lisher is giv­ing away one copy of this book— use the Raf­fle­copter form at the end of the post to enter.
368 pages
Pub­lisher: Blooms­bury 

UK

Lan­guage: English

ISBN-10

: 1408818590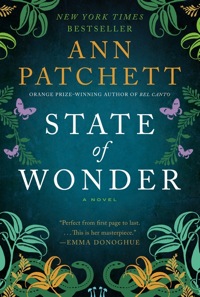 My rat­ing for State of Won­der — 4
Buy this book in paper or elec­tronic format
Thoughts:
State of Won­der by Ann Patch­ett (web­site) takes its time to build up, putting ordi­nary peo­ple, slowly but surely, in extra­or­di­nary sit­u­a­tions where nei­ther them nor the reader real­izes it until the setup clamps behind you with no way back. The book has sev­eral themes run­ning through it, but the two I found most fas­ci­nat­ing is the effects men­tors have on their under­lings and being able to let go of for­mal edu­ca­tion, when nec­es­sary, to look dif­fer­ently at the world around you.
I believe that access to a good men­tor can make or break an individual's career. This is espe­cially true with doc­tors (I think) and espe­cially in the United States where pre­ven­ta­tive med­i­cine is almost unheard of and might even be dis­cour­aged (this is one of the only, if not the only, coun­try in the world where the sub­ject is not taught in med­ical school). Men­tors stay with peo­ple for a long time, some­times even for the rest of their lives, much like par­ents, we look up to men­tors and put them on pedestals which, some­times, they might not deserve.
While we are all immersed in our hec­tic daily lives, it is always impor­tant to remem­ber that some­times the minor­ity might be right. I know of sev­eral instances where there is more than one right answer to any ques­tion, how­ever it is impor­tant for every­one to stand out­side of them­selves and observe the world through dif­fer­ent col­ored glasses.. A doc­tor who only aus­cul­tate to patients, has to use the same skills to look at the world around and try to under­stand sci­ence within context.
The novel is slow to develop, but Ms. Patch­ett does a fab­u­lous job intro­duc­ing the reader into the psy­che of the main char­ac­ters and the psy­chol­ogy which dri­ves them, rather than resort­ing to phys­i­cal or emo­tional moti­va­tions which are much eas­ier to under­stand. Each char­ac­ter has his or hers own demons and angels, there is no "bad guy" per say since a lot of the novel is per­cep­tion of one char­ac­ter on another.
There is a won­der­ful essence of the Ama­zon region which res­onates through­out the sec­ond half of the book. The author does a mar­velous job describ­ing the flora and fauna as well as the numer­ous bugs. To this day I can spend hours telling many sto­ries about the bugs I encoun­tered on my trip, going to sleep in a ham­mock only to jump out a few moments later with bugs crawl­ing on me, get­ting bit by fire ants and more.
It seems the sto­ries get bet­ter, longer and more graphic each time I tell them.
The more I read, the more I liked this book. The novel has a matu­rity level which I can­not put my fin­ger on, but it is a plea­sure to be engrossed.
Related Reads:
The River of Doubtby Can­dice Mil­lard
The Lost City of Z by David Grann
So tell me, do you like books with a slow build up?
Syn­op­sis:
Phar­ma­col­o­gist Marina Singh trav­els from Min­nesota to the Brazil­ian Ama­zon to find a lost col­league. Marina is sup­pose to report on the progress of a new drug which her com­pany is spon­sor­ing the research, but can­not get any updates.
Dr. Annick Swen­son, Marina's for­mer men­tor, has been work­ing on her research with the Lakashi tribe whose women have healthy babies well into their 70s. When Marina shows up, Dr. Swen­son who is com­mit­ted to keep­ing the secrets of the Lakashi secret, does not extend a warm wel­come to her form pupil.
Buy this book in paper or elec­tronic format
Give­away
Give­away ends: July 4, 2012

US

/Canada Ship­ping Addresses Only

No 

PO

 Boxes

Win­ners will have 24 hours to write back with their address, oth­er­wise an alter­nate win­ner will be picked
Con­grat­u­la­tions: singitm@
TLC

 Book Tour for State of Won­der by  Anne Patchett :
Tues­day, May 8th: Unabridged Chick
Wednes­day, May 9th: Take Me Away
Mon­day, May 14th: Proud Book Nerd
Tues­day, May 15th: Tiramisu Mom
Wednes­day, May 16th: Jo-Jo Loves to Read!
Fri­day, May 18th: No More Grumpy Bookseller
Mon­day, May 21st: The Adven­tures of an Intre­pid Reader
Tues­day, May 22nd: Lit and Life
Wednes­day, May 23rd: Shall Write
Thurs­day, May 24th: Krit­ters Ramblings
Wednes­day, May 30th: A Book­ish Affair
Thurs­day, May 31st: Paper­back Princess
Thurs­day, June 7th: Dolce Bellezza
Mon­day, June 11th: Tina's Book Reviews
Tues­day, June 12th: Amused By Books
Thurs­day, June 14th: mis­s­ris
Fri­day, June 15th: Book Him Danno!
Mon­day, June 18th: A Library of My Own
Tues­day, June 19th: The Scar­let Letter
Fri­day, June 22nd: My Book­shelf
Wednes­day, June 27th: Man of La Book
Zohar — Man of la Book
Dis­claimer: I got this book for free from TLC Book Tours
  BOOK BLOGGERS — Have you read State of Won­der? If so link up your review below:

Pro­mote the love of read­ing and share with your social net­work.   
Seguir a @https://twitter.com/ManOfLaBook
Enjoy this post? Why don't you sign up for the RSS feed