About:
The Pris­oner of Heaven by Car­los Ruiz Zafón is the third book in the For­got­ten Books series. The first two books, The Shadow of the Wind and The Angel's Game have been inter­na­tional best sell­ers.
The pub­lisher is giv­ing away one copy of this book— use the Raf­fle­copter form at the end of the post to enter.
288 pages
Pub­lisher: Harper; Reprint edition
Lan­guage: English

ISBN-10

: 0062206281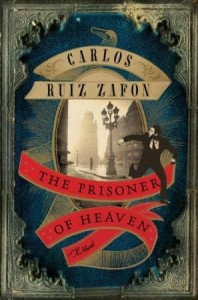 My rat­ing for The Pris­oner of Heaven —

5
Thoughts:
The Pris­oner of Heaven by Car­los Ruiz Zafón (web­site) is also set in Barcelona, much like the other books. This time though the story tog­gles between the 1940s and the late 1950s .
This book is almost impos­si­ble to put down, if you liked the first two (espe­cially The Shadow of the Wind), you will love this book is it keeps the same sto­ry­telling and most of all, the same won­der­ful sense of humor. The book is shorten than its pre­de­ces­sors, the struc­ture, which as men­tioned above still fol­lows a past/present thread is more clearly defined. In the pre­vi­ous books the thread was inter­min­gled and took some get­ting used in order to fol­low properly.
Out of the three books, this one is the least self-contained. I would actu­ally rec­om­mend read­ing the other two, espe­cially The Angel's Game first because The Pris­oner of Heaven ties up a lot of loose ends which can only be under­stood in the ref­er­ence of the back story and famil­iar­ity with the prior books.
I for­got how much I liked the fab­u­lous char­ac­ter of Fer­min Romero de Tor­res, which is quickly becom­ing one of my favorite lit­er­ary char­ac­ters. A roman­tic at heart, lin­guist in mind and a dreamer by trade, Fermin's out­ra­geous and often hilar­i­ous obser­va­tions leave me in envy and awe with a thirst for more.
I remiss not to men­tion another one of the author's unsung char­ac­ters, the city of Barcelona which is revealed, through­out the series in all her grit and glory in both sun and shade.
One could not also forego Zafón's trib­utes to pre­vi­ous mas­ter­ful sto­ry­tellers. From obvi­ous Dumas to Cer­vantes, Dick­ens to Hugo these mas­ters would be proud of the homage paid to them (in pur­pose or just in this reader's mind – does it even mat­ter?) in another mas­ter­ful tale.
The great nar­ra­tive, prose and won­der­ful comedic tim­ing con­tinue in the strong tra­di­tion of the For­got­ten Books series. I read many trans­lated books and I have to say that this series is prob­a­bly the finest trans­lated (even though I don't read in Span­ish). Usu­ally there are things amiss in for­eign books, be it the cul­tural ref­er­ences, the style or jokes. How­ever, trans­la­tor Julia Graves hasn't missed a beat (and if she did, I couldn't tell), the story flows smoothly with­out the reader hav­ing to stop due to misunderstandings.
Related Reads:
The Shadow of the Wind by Car­los Ruiz Zafón
The Angel's Game by Car­los Ruiz Zafón
Syn­op­sis:
Daniel Sem­pere and his wife Bea are con­tent with their life and their beau­ti­ful new baby, Julian and that their good friend,  Fermin Romero de Tor­res is about to get mar­ried. But when a strange walks into Sempere's book shop and threat­ens to divulge a ter­ri­ble secret about Fer­min, their hap­pi­ness subsides.
Daniel and Fer­min go down a path which they might never come back, and if they do, they will never be the same. The story jumps from Barcelona 1957, to 1940 — a ter­ri­ble time in Spain's tumul­tuous his­tory to reveal, piece by piece, more about the char­ac­ters which we thought we knew.
Give­away
Give­away ends: July 24, 2012

US

/Canada Ship­ping Addresses Only

No 

PO

 Boxes

Win­ners will have 24 hours to write back with their address, oth­er­wise an alter­nate win­ner will be picked
Con­grat­u­la­tions: name as email
TLC

 Book Tour for The Pris­oner of Heaven  by  Car­los Ruiz Zafón :
Thurs­day, July 5th: No More Grumpy Bookseller
Mon­day, July 16th: A Book­ish Affair
Tues­day, July 17th: Man of La Book
Wednes­day, July 18th: Bookworm's Din­ner
Mon­day, July 23rd: Drey's Library
Tues­day, July 24th: Col Reads
Wednes­day, July 25th: "That's Swell!"
Thurs­day, July 26th: Jenn's Book­shelves
Fri­day, July 27th: Word­smitho­nia
Mon­day, July 30th: Bro­ken Teepee
Mon­day, July 30th: A Book Geek
Mon­day, August 6th: No More Grumpy Bookseller
Tues­day, August 7th: A Novel Source
Wednes­day, August 8th: My Two Blessings
Thurs­day, August 9th: Rag­ing Bibliomania
Fri­day, August 10th: Krit­ters Ramblings
Date

TBD

: Book Him Danno!

TBD

: Just Joanna
    Zohar — Man of la Book
Dis­claimer: I got this book for free from TLC Book Tours
BOOK BLOGGERS — Have you read The Pris­oner of Heaven? If so link up your review below:

Pro­mote the love of read­ing and share with your social net­work.   
Seguir a @https://twitter.com/ManOfLaBook
Enjoy this post? Why don't you sign up for the RSS feed