About:
The United States Con­sti­tu­tion: A Round Table Comic Graphic Adap­ta­tion Nadja Baer (Adapter), Thomas Jef­fer­son (Author), John Adams (Author), Thomas Paine (Author), James Madi­son (Author) and Nathan Lueth (Illus­tra­tor) is an adap­ta­tion of the supreme law of the land in these United States. Dr. Katie Mon­nin, assis­tant pro­fes­sor of lit­er­acy at the Uni­ver­sity of North Florida, pro­duced a cur­ricu­lum guide (tar­get towards 8th grade level) to sup­ple­ment the comic book which is avail­able free of charge at http://maupinhouse.com/constitutioncurriculum
80 pages
Pub­lisher: Writ­ers Of The Round Table Press (April 16, 2012)
Lan­guage: English

ISBN-10

: 1610660250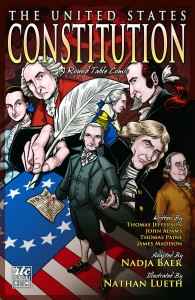 Buy this Comic Graphic Adap­ta­tion in paper
 or in elec­tronic format.
Thoughts:
Right off the bat I liked that the author included the Found­ing Fathers in the title of this comic graphic adap­ta­tion. The United States Con­sti­tu­tion: A Round Table Comic Graphic Adap­ta­tion by Nadja Baer (Adapter | web­site | Twit­ter), Thomas Jef­fer­son (Author), John Adams (Author), Thomas Paine (Author), James Madi­son (Author) and Nathan Lueth (Illus­tra­tor | web­site | Twit­ter) takes the US Con­sti­tu­tion and, using the orig­i­nal text, presents it in an easy to under­stand graph­i­cal format.
This is a short book but, and this is a big but, it con­tains 100 per­cent of the orig­i­nal text of the supreme law of these United States as well as pic­tures and nar­ra­tive to com­mu­ni­cated the con­cepts which are for­eign to so many people.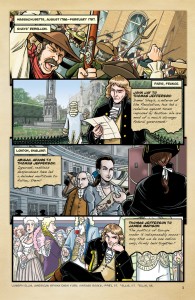 I am by no means a Con­sti­tu­tional scholar, but I have read the doc­u­ment (and even keep a pocket edi­tion in my car). I also find Con­sti­tu­tional law very inter­est­ing and fol­low all Supreme Court cases. I even find the Supreme Court opin­ions a fas­ci­nat­ing read, espe­cially those that I dis­agree with.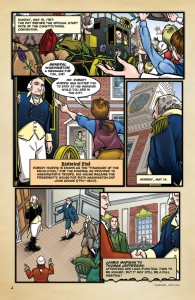 I think that it's sad that most peo­ple don't real­ize how much do Supreme Court cases affect our every day lives and that not only it is our right to pay atten­tion, but it is our duty as cit­i­zens. In the past 10 years some of the deci­sions made by the Court were out­ra­geous, un-American and dan­ger­ous to our democ­racy; yet went unno­ticed by the major­ity of reg­is­tered vot­ers. But what can you expect from peo­ple that see vot­ing as a "chore" instead of a privilege?
So tell me, do you pay attention?
Buy this Comic Graphic Adap­ta­tion in paper
 or in elec­tronic format.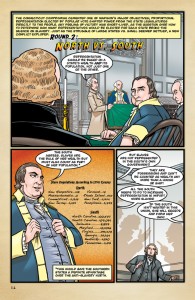 Syn­op­sis:
I'm not going to sup­ply a syn­op­sis. If you don't know the syn­op­sis you should, at least, pick up this book to learn more about this amaz­ing, ground­break­ing and his­toric document.
Zohar — Man of la Book
Dis­claimer: I got this book for free.
Related arti­cles
BOOK BLOGGERS — Have you read The United States Con­sti­tu­tion: A Round Table Comic Graphic Adap­ta­tion? If so link up your review below:

Pro­mote the love of read­ing and share with your social net­work.   
Seguir a @https://twitter.com/ManOfLaBook
Enjoy this post? Why don't you sign up for the RSS feed