About:
The New­ly­weds by Nell Freuden­berger is a fic­tional book which deals with online mar­riages of US cit­i­zens to mail order brides. As with any mar­riage, this one is also fraught with chal­lenges on a day to day basis.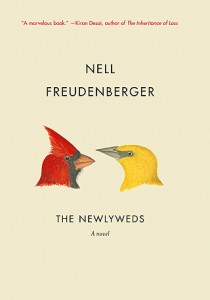 My rat­ing for The New­ly­weds — 3
Buy this book in paper
 or in elec­tronic format.
More books by Nell Freudenberger
Thoughts:
The New­ly­weds by Nell Freuden­berger is a well writ­ten book and a first rate drama. The author cre­ated a rich world and some thought pro­vok­ing instances in the narrative.
This is one of those books that I'm on the fence about (much like Jane Eyre). While I cer­tainly appre­ci­ate the qual­ity, the story didn't speak to me nor could I iden­tify myself with any­one of the char­ac­ters except George, the Amer­i­can hus­band, which is basi­cally a set piece.
As some­one who is not unfa­mil­iar with cross cul­tural / cross reli­gious mar­riages, as well as immi­gra­tion and cul­ture shock, I thought this book would speak to me more – but it didn't. I really liked the premise of a Bangladeshi woman com­ing to the United States to marry an Amer­i­can. Amina is not some dimwit, but an intel­li­gent (far more intel­li­gent than her hus­band), prag­matic and hard­work­ing woman.
Amina's move from Bangladesh to the US was sim­ply too smooth with lit­tle major obsta­cles. While it's always excit­ing to move to a new place, there is also the sec­ond guess­ing, the real­iza­tion that you have to start over, the depres­sion, lone­li­ness and cul­ture shock. While those issues were addressed in the sto­ry­line, they were just men­tions when any­one who ever had a big change in their lives know that they are all consuming.
I also didn't care for Amina. She came off as a manip­u­la­tor who uses her gullible Amer­i­can hus­band as a spring­board to come across the world, live off his income while plan­ning to bring her par­ents abroad. George on the other hand keeps mak­ing promises which he knows he's not going to keep (such as con­vert­ing to Islam) and comes across as a needy, a liar  and a bit of a jerk.
I found the char­ac­ters, besides Amina, one dimen­sional. The pathetic George falls flat as an equal part of a mar­riage, the other major char­ac­ter, Kim, does noth­ing to the story besides bring some ten­sions to the mar­riage. I felt that there was no need for such a per­son to be in the story, granted I used to know women who can­not live with­out drama (around age 30 I decided I no longer want to asso­ciate with mis­er­able peo­ple) but I would have found the explo­ration the day-to-day chal­lenges of such a not-so-uncommon mail order bride mar­riage much more inter­est­ing with­out another despon­dent per­son thrown into the mix. Amina is con­stantly besieged with by her self-reflection upon reli­gion, her­itage and tra­di­tions, but none of those actu­ally get more than a para­graph or two per struggle
The book showed such promise and the last quar­ter, which takes place back in Bangladesh with­out George, is fan­tas­tic. How­ever, I felt, could have been a lot more than what it ended up to be. Still, I'm glad I read it as Ms. Freuden­berger has a hell of a way with words.
So tell me, what was the last book you read that showed great promise?
Syn­op­sis:
Amina Mazid has met George "a thirty-four-year old SWM who was look­ing for a wife" on AsianEuro.com. after a year of writ­ing to one another she finds her­self in Rochester, NY, liv­ing com­fort­ably in her new country.
What George doesn't real­ize is that with his beau­ti­ful bride, he is also get­ting tra­di­tions, cul­ture and live-in in-laws. George also doesn't know that he is only a "piece of the puz­zle" in Amina's grand plan of mak­ing life bet­ter not only for her, but for the rest of her family.
Buy this book in paper
 or in elec­tronic format.
More books by Nell Freudenberger
Zohar — Man of la Book
Dis­claimer: I got this book for free
3366ff
Related arti­cles
BOOK BLOGGERS — Have you read The New­ly­weds? If so link up your review below:
Enjoy this post? Why don't you sign up for the RSS feed