About:
"A Tree Grows in Brook­lyn" by Betty Smith is a his­tor­i­cal fic­tion book set in … Brook­lyn. The book was pub­lished in 1943 and became an instant best seller despite crit­i­cism on its content.
528 pages
Pub­lisher: Harper Peren­nial Mod­ern Classics

ISBN

: 0061120073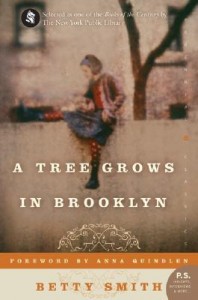 My rat­ing for A Tree Grows in Brook­lyn — 5
Buy & Save on " A Tree Grows in Brook­lyn"
through the ManOfLa­Book affil­i­ate account on:
Ama­zon | Kin­dle | Book Depos­i­tory US | Book Depos­i­tory UK
Thoughts:
"A Tree Grows in Brook­lyn" by Betty Smith is con­sid­ered an Amer­i­can clas­sic and an essen­tial part of Amer­i­can lit­er­a­ture. The book describes life in turn-of-the-century Brook­lyn and is a tes­ta­ment for the hope kin­dled in immi­grants who came to the United States.
Not sur­pris­ingly, this well writ­ten book empha­sizes the value of good edu­ca­tions, good teach­ers, com­mu­nity and family.
"Before they went to bed, Fran­cie and Nee­ley had to read a page of the Bible and a page from Shake­speare. That was a rule. Mama used to read the two pages to them each night until they were old enough to read for them­selves. To save time, Nee­ley read the Bible page and Fran­cie read from Shakespeare."
To be hon­est, I ignored this book for a long time. I had sev­eral chances to read it but chose some­thing more "manly" each and every time. Finally the "clas­sic book club" I belong to has cho­sen this book and I decided that this is it.
I'm going to read it.
The rea­son I always passed on "A Tree Grows in Brook­lyn" is because it has always been billed as "a book every girl/woman should read". That tag line didn't sound to entic­ing to me.
Once I did read it I dis­cov­ered that all the taglines and adver­tis­ing did injus­tice to the book. This is not as "a book every girl/woman should read" but a book that every­one should read. While the story is also about the com­ing of age of young Fran­cie Nolan, it is also a touch­ing tes­ta­ment to the early immi­grant spirit and the hard­ships of life which were rarely writ­ten about first hand.
"'This could be a whole life,' she thought. 'You work eight hours a day cov­er­ing wires to earn money to buy food and to pay for a place to sleep that you can keep liv­ing to come back to cover more wires. Some peo­ple are born and kept liv­ing just to come to this."
Even though this book was not writ­ten as his­tor­i­cal fic­tion, I believe that it squarely falls in that cat­e­gory in 2011. The story is a pow­er­ful look at the time using relate­able char­ac­ters (even for guys). The book reminds us how lucky we are to live in this time, where the daily dilemma is should you down­load the new song from iTunes instead of not know­ing where you're going to get those ten cents to feed your fam­ily for the day.
So tell me, what book that you put off because you thought you wouldn't like sur­prised you once you read it?
Syn­op­sis:
Young teen Fran­cie Nolan's fam­ily has many strug­gles. This Irish-American fam­ily faces poverty, alco­holism and the bru­tal real­ties of life in turn of the cen­tury New York City.
Buy & Save on " A Tree Grows in Brook­lyn"
through the ManOfLa­Book affil­i­ate account on:
Ama­zon | Kin­dle | Book Depos­i­tory US | Book Depos­i­tory UK
Zohar — Man of la Book
Dis­claimer: I bought this book
Related arti­cles
BOOK BLOGGERS — Have you read "A Tree Grows in Brook­lyn"? If so link up your review below:
Enjoy this post? Why don't you sign up for the RSS feed