About:
Tarzan the Untamed by Edgar Rice Bur­roughs is the sev­enth novel in the series fea­tur­ing the King of the Jun­gle. The book was orig­i­nally pub­lished as two sep­a­rate sto­ries in two sep­a­rate mag­a­zines –Tarzan the Untamed / Tarzan and the Huns in Red­book (March-August 1919) and Tarzan and the Val­ley of Lune in All-Story Weekly (March-April 1920).
254 pages
Pub­lisher: Ballantine
Lan­guage: English

ISBN-10

: 0345241665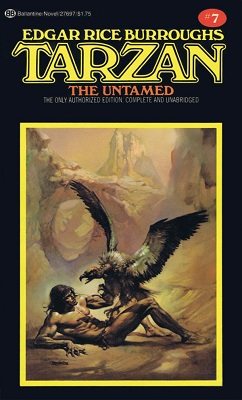 My rat­ing for Tarzan the Untamed— 4
Buy this book in paper or FREE in elec­tronic format*
More Books by by Edgar Rice Burroughs
Thoughts:
I have two pieces of advice when read­ing Tarzan the Untamed by Edgar Rice Bur­roughs or actu­ally any of Bur­roughs' novels:
1)      Read the first novel, Tarzan of the Apes and at least one more novel
2)      Keep in mind the times this novel was writ­ten in, by today's stan­dards it would be con­sid­ered racist.
I really enjoyed this book, the novel brings back some­thing that the movies have missed, Tarzan's famous sense of humor. I com­pletely missed this aspect of the sto­ries in my re-reading of the Tarzan nov­els but now I do remem­ber how much I enjoyed the jokes as a kid.
Much like other Bur­roughs nov­els, the book is filled with improb­a­ble sto­ries, unbe­liev­able escapes, fero­cious beasts, beau­ti­ful beasts and a host of vil­lains. While the end­ing was abrupt, the rest of the novel was lots of fun even though much of it was sim­ply silly (Tarzan rop­ing a plan with a grass rope).
It is not clear what the author has to gain from killing (?) Jane in this novel. Maybe he changed his mind later, maybe pop-culture took a hold of Jane, what it might be it didn't work but I could cer­tainly see the two end­ing up together.
Even though the story is for­mu­laic at best, the sense of humor and escapism make it a clas­sic. A fun book to read on a rainy day, dream­ing of adven­tures, set dur­ing World War I.
Syn­op­sis:
Dur­ing World War I, while John Clay­ton, Lord Greystoke (Tarzan) is away from his plan­ta­tion it is destroyed by invad­ing Ger­man troops. When he returns to the plan­ta­tion (in British East Africa), Tarzan dis­cov­ers many bod­ies one of whom belongs to his wife.
Angered Tarzan seeks revenge on all Ger­mans and goes to the bat­tle front in East Africa. After he exacts his revenge, Tarzan seeks the apes, his friends. As the story con­tin­ues Tarzan falls into the hands of can­ni­bals and meet Harold Percy Smith-Oldwick, a British pilot and other char­ac­ters who he bonds with.
Buy this book in paper or FREE in elec­tronic format*
More Books by by Edgar Rice Burroughs
Zohar — Man of la Book
Dis­claimer: I got this book for free.
*Ama­zon links point to an affil­i­ate accoun
Enjoy this post? Why don't you sign up for the RSS feed